Comfort Aire BHD701H Dehumidifier Review, 70 Pint
Product Name:
Comfort Aire BHD701H Dehumidifier, 70 Pint
Brand:
Comfort Aire
Features:
1. Auto Defrost 2. Auto Shut-Off
Pros:
1. Compact and portable61355-comfort-aire-bhd-701-h1 2. Removes up to 70 pints of moisture
Cons:
1. Water bucket seems to be a little small
Rating: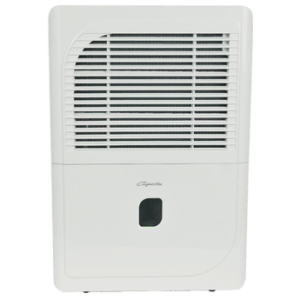 Buy from Amazon.com
When I started searching for a dehumidifier on the internet for my home, the myriad of choices made it extremely confusing for me to select any particular. After spending a couple of days and learning about some technical terms and  features I should look in a dehumidifier, I knew that I need to buy BHD701H, a Comfort-Aire dehumidifier model.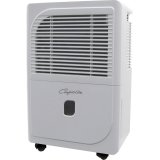 To avoid spending time online in search for the best dehumidifier, go through this Comfort Aire BHD701H Dehumidifier Review to find yourself the winner.
Hardware and Design
The first thing that we will talk about in this review is its hardware and design. First thing you will notice about BHD701H is its large size. This Comfort-Aire dehumidifier has a height of 23.3", width of 15.4", and depth of 10.8" and weighs 39.7 pounds. The standalone dehumidifier can be easily placed in the corner of any room. For enhanced convenience, this best dehumidifier for basement comes with four casters for easy portability.
This Comfort-Aire Dehumidifier is able to eliminate up to 70 pints of moisture from any large sized room or basement. A large number of dehumidifier reviews suggest that the BH701H's capacity is highly impressive and it can easily eliminate moisture from large spaces, like garages, basements, etc.
Apart from this impressive capacity, Comfort Aire BH701H Dehumidifier has a number of other useful features as well. But while the unit is loaded with features, it consumes a very small amount of energy if we compare it with the energy consumption of other units. It works on 720 watts which is a little above average and Energy Star has rated it to be energy efficient as well, making it one of the best small dehumidifiers out there.
The sleek white body of this Comfort-Aire dehumidifier looks pretty neat and can easily blend with any type of interior.
Includes
Casters
Adapter for Drainage Hose
Key Features of This Comfort-Aire Dehumidifier
The next part of this Comfort Aire BH701H Dehumidifier review is the key features of this model. Let us have a look at some of the most impressive ones.
Auto Defrost

Frost build-up on the coil of a dehumidifier, when working in low temperatures is a common problem. If the frost is not removed, overtime, it can damage the dehumidifier or affect its functioning. To tackle this problem, Comfort Aire BH701H Dehumidifier has an Auto-Defrost feature which turns the compressor on and off and makes use of its fan to remove the frost, to protect the dehumidifier from any kind of damage.
Auto Shut-Off

When the condensate container of this Comfort-Aire dehumidifier is full, an LED light on the electronic panel will signal the same. As soon as this light turns on, the dehumidifier will turn off automatically and will only start when the water from condensate bucket is emptied.
Indicator Lights

As mentioned above, this Comfort-Aire dehumidifier has an LED indicator light to indicate when the condensate bucket is full. It also has another check-filter LED indicator which will illuminate when you are required to clean the filter. These indicators make sure that the dehumidifier works at its best.
Auto Restart

If there is a power outage, this Comfort-Aire dehumidifier will automatically restart when power is back. Once it restarts, it will use the same settings which it used before the power outage.
3-Minute Compressor Time Delay

For enhanced protection of the dehumidifier, there is a 3-minute delay to ensure that it doesn't start prematurely. Once it has stopped during the power delay, it will not be able to automatically restart for 3 minutes. This feature of this best price dehumidifier for basement is also very useful in protecting the compressor from stopping abruptly and result in any kind of internal damage. It only turns off immediately when there is build up of frost, power outage, or when the condensate bucket is full.
Sight Glass

To eliminate the need to check the level of water in the condensate bucket, this Comfort-Aire dehumidifier features a sight glass to make the process easier. When the water level reaches to the top in the sight glass, it's time to empty the bucket.
Handy Design

The dehumidifier is light in weight and has 4 rotating caster along with side grips handles. As a result, you can easily transport this unit between rooms to remove moisture from multiple rooms. Even many Comfort Aire dehumidifier reviews agree that the portability of this unit is highly impressive.
Reusable Filter

The dehumidifier's filter is mounted on the side to allow you to remove it easily. You can remove the filter, clean it and again install it to reduce the amount of pollutants and other airborne debris that can enter into the dehumidifier.
Drainage System

This best small dehumidifier comes with multiple drainage options. During dehumidification, the excess water which accumulates, gets collected in the dehumidifier's water bucket which is loaded from the front of the unit or can also be emptied automatically with the help of drainage hose, which you need to buy separately.
You can also remove the accumulated water manually. For this, you can use the condensate bucket's built-in handle to lift the bucket and empty it when the bucket-full LED illuminates. If you don't want to get into this manual hassle, you can buy a drainage hose and connect it to the dehumidifier with the help of the included adapter for continuous drainage. You can also use any standard dehumidifier drainage hose or a simple garden hose for this. This will eliminate the need to manually empty the bucket as the water will continuously drain out of the hose.
Pros
Next part of this Comfort Aire BHD701H Dehumidifier review is the pros and cons of this dehumidifier. Let us first start with the pros.
Compact and portable
Removes up to 70 pints of moisture
Highly effective dehumidification
Energy efficient
Set up is pretty easy
Manual an automatic drainage
Water removal is easy and effective
LED indicator lights
Reusable filter
Control are easy to use
Cons
Now let us have a look at the cons.
Water bucket seems to be a little small
Drainage hose not included
Little noisy
Ease of Use
This best dehumidifier for basement features a digital control panel that has touch controls. The controls are extremely easy to use and are located on the upper part of the dehumidifier to make sure that they are easily accessible. By simply touching a button you can program the dehumidifier for operating continuously, increase the speed of the fan, set programmable timer, and adjust the unit as per the required humidity levels in the room or the basement. For enhanced convenience, the dehumidifier also displays the exact humidity level on the room within the range of 30 to 90 RH (Relative Humidity).
There are a number of features in this dehumidifier, like automatic restart, defrost, shut-off, etc. that makes it a self-maintaining unit. This eliminates the need to regularly check the dehumidifier. The dehumidifier will automatically turn itself off and then on to make sure that it is able to maintain the humidity level set by you. Its defrost feature makes it one of the best price dehumidifier for basement, garage, or storage areas.
The dehumidifier works flawlessly in temperatures as cold as 41 degree F and will automatically defrost as well to prevent freezing of water which can damage the unit. It has an LED indicator for full bucket and there is also a small window on the front panel for displaying the level of water in the condensate bucket.
Through its control panel you can choose between two fan speeds, on the basis of the existing humidity and in how much time you want the humidity to be removed. The dehumidifier also comes with a removable filter, which you can remove to clean. Thus, apart from removing moisture, the dehumidifier also eliminates unwanted dust and bacteria from the room.

Energy Efficiency
The dehumidifier is Energy Star compliant and will function flawlessly while consuming least amount of electricity. A large number of Comfort Aire Dehumidifier reviews suggest that the unit is indeed very energy efficient, and even though it can remove up to 70 pints of moisture, it consumes a small amount of electricity to keep pollution minimal. This is one of the most important reasons that make this BHD701H, an excellent dehumidifier for sale.
Comfort Aire BHD701H Dehumidifier comes with a standard 1-year warranty for replacement and parts, when used normally. Moreover, the sealed system part of the dehumidifier carries a 5-year warranty as well.
My Recommendation
If you are looking for a powerful and affordable dehumidifier for sale, Comfort Aire BHD701H is indeed an excellent choice. It has an impressive capacity, is extremely easy-to-use, LED indicators, automatic defrost, easy drainage, energy efficient, and a lot more, to make sure that it is able to do a commendable job of removing moisture from any room.
Another great thing about this dehumidifier is the fact that while it is an impressive capacity, its cost is cheaper than other best dehumidifiers with similar capacity. In short, with BHD701H you will not only get an excellent dehumidifier but will also make some substantial savings. Even if you'll check the dehumidifier ratings, you'll see that this dehumidifier fares very well against some of the best and expensive dehumidifiers.
Final Thoughts
Capacity, features, energy efficiency, portability, and cost are some of the most common things that an individual considers while buying a dehumidifier. The problem with majority of dehumidifiers is that they do not excel in each of the above mentioned considerations. While some have good capacity, they do not have the required features, and the ones that do have the features, are very expensive.
However, BHD701H from Comfort Aire is a dehumidifier which excels in almost everything. Right from affordability, features, to energy efficiency, it is an amazing dehumidifier. If you'll check the dehumidifier ratings and reviews, you'll see that this dehumidifier excels in every department and is a perfect pick for every home, which we tried to mention in this Comfort Aire BHD701H dehumidifier review.
FAQs
What amount of area is this dehumidifier ideal for?
Comfort Aire BHD701H has a capacity of 70 pints and can be easily used in areas as large as 1000 sq. Feet ad above. Many buyers have installed these humidifiers in their large basement, garage, and other storage spaces and have confirmed that it does a flawless job of maintaining the humidity in large spaces.
Yes the dehumidifier can run continuously when you connect it with a drain hose. If not, the unit will automatically turn off every time the condensate bucket is full. You can use any inexpensive garden hose or can buy a separate drainage hose from a store.
Yes, the side-mounted filter of this dehumidifier can be removed for cleaning. You can easily slide it to remove and then wash it with soapy water. Once dry, install it again on the unit. The filter does an excellent job of purifying the air by eliminate bacteria and other air-borne pollutants.
How can I connect a drainage hose to this dehumidifier?
If you'll look at the back of the unit you'll see the hose connection there. The dehumidifier comes with a hose adapter which you can use to connect the hose to the unit for automatic drainage and ensure that the dehumidifier runs continuously.
Buy from Amazon.com