Top 10 whole house humidifiers comparison table
Imagine you are sitting on the couch and watching television after a long day at work. You don't realize you are doing it at first, but eventually, you notice you're scratching your scalp. Perhaps you're thirsty, your eyes are dry and irritated, and your houseplants are droopy. Sounds familiar? This common occurrence happens due to the lack of humidity in the air. This humidity loss can lead to dry skin, rashes, sinus issues, and even dehydration. It also affects everything around us. The way we heat our home has a profound impact on its humidity, sometimes getting as dry as a desert.
To counteract this issue, the most logical remedy is to get a humidifier. The reasons for finding the best whole house humidifier are many, but finding the right one can be a confusing decision. Which one is the right fit and has the best features for your budget?
At Soothing Air, we have spent years researching the answers to these questions, and more. While the search for the best whole house humidifier can be overwhelming, you can use our reviews and guide to help you make a choice you will be satisfied with for years to come.
Why Should You Trust Us to Get the Best Whole House Humidifier?
With so many choices available, it can be hard to identify the important information from the fluff. We're here to help you sort through the haystack and find those needles of truth so that you may choose the best whole house humidifier for you.
Having years of experience in the industry and after studying the information on the market, with the tools and techniques available to us we are able to give you the best, unbiased information regarding whole house humidifiers.
We didn't just study the information though. We put these systems to the test in real-world environments. Performing these tests on more than 40 different products is a time-consuming process, but we feel our readers deserve the best from us.
We are not here to promote any one particular product or another but are instead devoted to ensuring you have the highest quality information in your hands. This way, when the time comes to buying the best whole house humidifier, you will be ready to make the right choice considering a few things.
Our many hours of experience and research has given us the ability to bring you the definitive guide on the top-rated whole house humidifiers on the market today.
What Is A Whole House Humidifier?
As the name suggests, a humidifying machine that can humidify the entire home is called a whole house humidifier. Usually, they are installed directly in your ductwork near the furnace. The air enters the furnace, gets heated by the furnace, then humidified by the whole house humidifier and finally, this hot and moist air leaves the furnace.
The best whole house humidifier gets this water directly from your pipes rather than a reservoir you have to manually fill, then injects the vapor into your home heat and A/C duct-work. This leads to improved moisture levels for your entire home rather than simply in one room when using a console-style humidifier.
What are the Benefits of Whole House Humidifiers over other Humidifiers?
A whole house humidifier is convenient to use, since the only thing necessary is to install it, periodic maintenance if required, and be alert for any sign of breakdown. Being that these units are usually out of sight, they're also often out of mind; so make it a habit to check now and then.
Unlike a console humidifier, you do not have to fill a tank constantly or clean any type of filtration system. You simply set it and forget it. Some models do require filter changes or cleanings every 3 6 or 12 months.
Some portable humidifiers require you to add special chemicals to the water, and, to avoid mold or bacteria from growing, they need to have the filters cleaned often. These filters may not cost much initially, but over time, the cost to keep them functioning correctly can add up.
In comparison, a central humidifier uses only fresh water and is never still long enough to become stagnant. As a bonus, they also use little or no electricity leading to cash saved via efficiency, but they can also pay for themselves over time, due to lower heating bills.
Portable humidifiers are bulky and take up a lot of room, even if they are the tower tank style. The larger your room, the larger the humidifier you will need to compensate and add the proper amount of moisture. You probably would also need one for each room to be effective.
A whole house humidifier is much more effective and energy-efficient than many smaller ones scattered around the house, and your furnace's heating ducts provide a convenient route to every room for the freshly humidified air.
How Do Whole House Humidifiers Work?
Whole house humidifiers, unlike portable units, do not have a tank to fill. Instead, they connect directly to your water supply and to your heating system. This allows you to have your home's moisture increased, without ever having to keep a reservoir full or trip over individual units in every room.
Some units even come with a humidistat, which is like a thermostat but for humidity. This unit detects the levels of humidity in your house and automatically adjusts the humidifier's output to hit your target. Many humidistats even have digital controls.
This larger single unit, usually installed in a basement or wherever your furnace and/or hot water heater is, is much more effective and energy efficient than many smaller ones scattered around the house, and your heating ducts provide a convenient route to every room for the freshly humidified air.
All of this utility and convenience operates out of a single appliance, usually installed in a basement or wherever your furnace and/or hot water heater is.
Types Of Whole House Humidifiers
There are several general types of humidifiers. Which one you decide to get will depend on your specific needs and budget.
Steam Humidifier: This type of humidifier heats water to the boiling point, then injects the hot steam through your ventilation ducts working very efficiently. The downside is that it takes energy to heat water and cold air conditioning may be compromised by this hot vapor.
Bypass Humidifier: A bypass humidifier works by taking heat from the furnace system, which warms up the water into a mist. This mist then goes through the ventilation system. Many consider this as the best type of humidifier you can buy, but opinions do vary.
Fan Powered Humidifier: Similar to a bypass humidifier in some ways, the fan powered humidifier has its advantages. It blows a fan directly across a water panel, which then sends the cool vapor/mist through a filter and into the duct-work. The fact it doesn't need hot water means it can use less electricity and won't interfere with your ice cold A/C.
Each type has its pros and cons, but all will work to make your home much more comfortable. You should take into account what is most important to you in your search for the best whole house humidifier, and weigh your options accordingly. You can view all the relevant facts in our research table.
Depending on your requirements, you can also check our reviews of the other types of humidifiers as well. We classified them based on their types and uses:
Considerations to Make When You Choose A Whole House Humidifier
Since the number of humidifiers on the market is so large, you will need to consider a few things before you decide on the best whole house humidifier for you. Consider things like if you live in a warm or cool climate and what your budget is so as to get all health benefits from your humidifier.
The first step to choosing the best whole house humidifier should be deciding what type of unit you want. If you have a furnace and central air conditioning in your home already, a bypass or fan-powered system might be your best choice.
To decide this you should measure or make an estimate of how many square feet your home is. Different systems are better for different amounts of space.
The unit you choose may have free installation, telephone or online assistance, or it may require you to do it all yourself using just the manual. This can make a big difference in which humidifier is best for your home as it will factor into the cost. Be confident in your skill before installing yourself.
Some whole house humidifiers will need cleaning and periodic maintenance, so you should read all the literature the manufacturer provides. You might need to change filters, replace parts or other things, sometimes frequently. You should also see if the unit has replacement parts readily available and what sort of warranty the unit comes with and its duration. We recommend at least a one-year protection plan from the manufacturer.
How We Picked and Tested
We have spent more than four years dedicated to researching these devices and identifying the best whole house humidifiers available.
In that time, more than 40 units have been tested and investigated by our team, in order to bring you the best knowledge you can have.
We spent close to two months using the products, in a community-based usage style, to see how well they performed in real-world environments. We considered the indoor environment before beginning.
Then, we measured the performance of the whole house humidifier. An analysis was made of their capacity, maintenance, installation, output, overflow protection, automatic settings, cost, and even more important factors.
Each of these factors makes a difference in the overall performance and even in the lifetime of the units. If, for instance, a humidifier has a large tank capacity but lacks automatic adjustments and power, it might be considered a detriment, since it will need to be frequently refilled due to being constantly on.
Our deep analysis of these factors is unlike any other market research available, and we are proud of the discoveries we have been able to make. Through these tests, we have been able to determine the best whole house humidifier on the market today. It has been a meticulous task, but we feel it is worth it if it helps make your choice of the best whole house humidifier any easier.
Our Top Ten Best Whole House Humidifiers List with Reviews
In order to determine which whole house humidifier edges out its competition, we have analyzed the 46 most important features for each product selected.
To help you choose the best whole house humidifier, we have made our research report available for you. Join us by Liking any of our social media pages and you will get instant access to all the information we couldn't put here for you.
Best Whole House Humidifier Overall: AIRCARE MA1201 Console Style Humidifier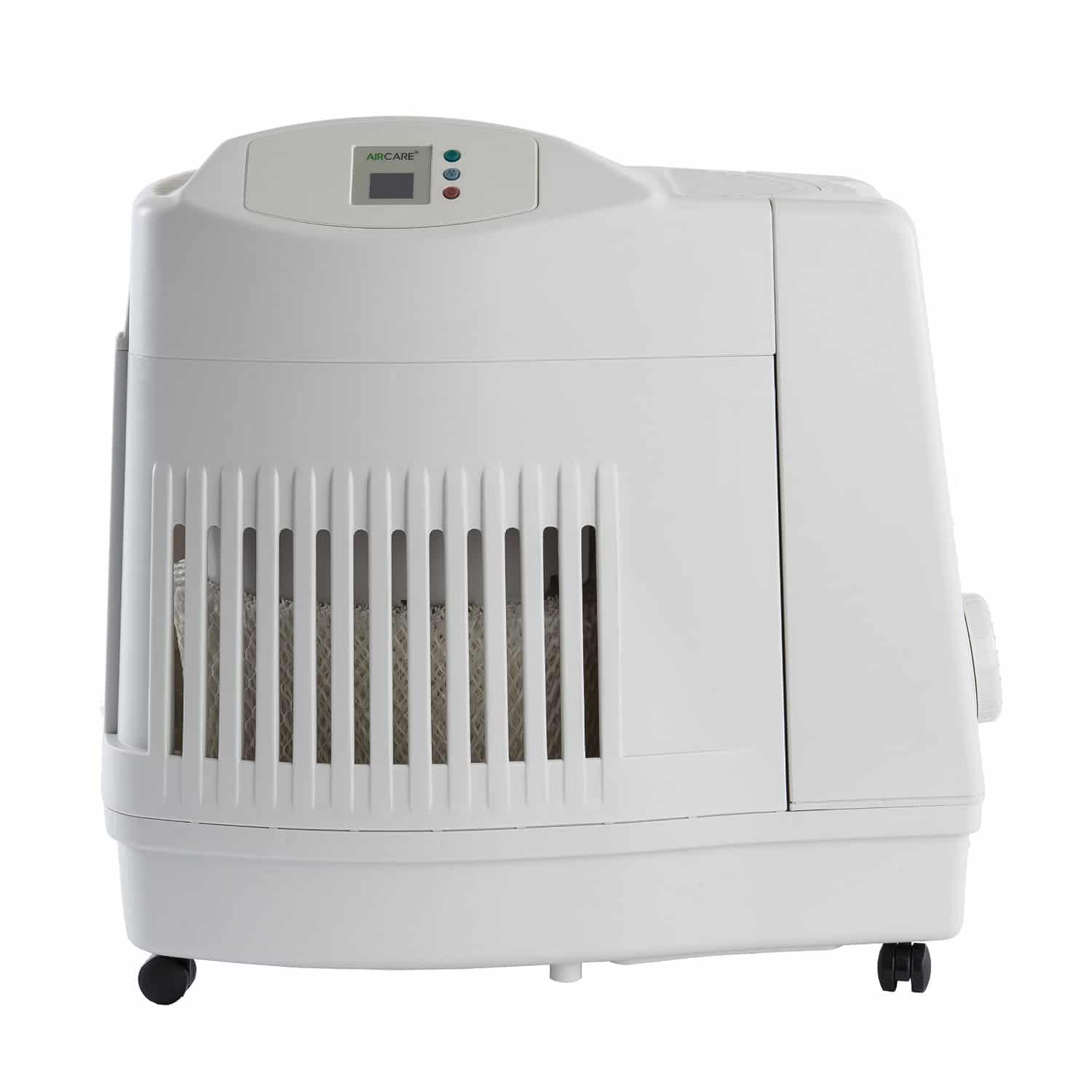 AIRCARE MA1201 Whole House Humidifier
Best in Features, Price, Usability
AIRCARE MA1201 Whole House Humidifier
It's large 3.6 gallon tank capacity can efficiently cover a 3,500 sq. ft. of space. It boasts of an integrated humidistat operation, variable fan speeds, and a long running time.
Why is it Our Best Overall Choice?
We have analyzed 46 features for each of the products we have selected. This humidifier has the highest number of positive features, leading us to declare it the best available. You can see the results for yourself in our handy research report.
It is efficient for as much as 3500 square feet of space, has a 3.6-gallon tank capacity and a digital display. This model can be cleaned easily following some steps and has evaporative wick traps for mineral deposits. It is also smooth in operation, with no belts, pulleys or wheels.
This product is very affordable. Even if your budget is around $100.00, you can still afford this amazing humidifier.
When comparing the rating frequency of each of the products, we found this one is receiving ratings at a good pace. In its first 2 months, it gained 10 ratings and reviews, 10 more in 21 days, and another 10 in the next 15 days.
This is the only humidifier in our list to feature a single button control capability. This helped bring it to our #1 pick.
AIRCARE MA1201 Whole House Humidifer Review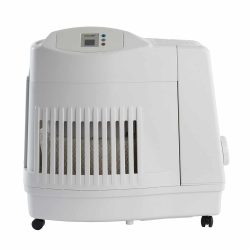 Our top pick came in with the most positive features of it. In our research, it far exceeds expectations, bringing the moisture to the air efficiently with less frequent refills than much of its competition.
The large 3.6-gallon size tank this humidifier has will keep things going, but if you are in an especially dry climate, you might have to refill it on a daily basis. It is, however, big enough that if you live in an area which does not experience excessive dryness the tank capacity won't be a bid deal.
This unit has variable fan speeds, letting you control the flow of moisture into your environment as needed. It has a refill indicator, making a simple task to see when it is time to add water to the tank, and it can run for more than 36 hours of constant use.
Some users were able to get even more time out of the machine with the fans set on low, letting the unit work more slowly, while still keeping the comfort levels high, and rated it favorably.
It also lets you adjust the humidity levels to a specific amount if you desire. The digital display allows this to be a simple process, giving you vital statistics at a glance. These include temperature, humidity levels existing in the area already, and the target humidity you would like to have.
With the humidistat integrated into its operation, it will turn itself off when the levels reach what you desire, saving you from paying a higher electric bill and using less water than models that do not feature this technology.
Since it does not have belts or pulleys, the maintenance on the device is on the lower end. You will not have to worry about those kinds of parts breaking down. Another nice feature is the evaporative wick commonly found in evaporative humidifiers. This catches mineral deposits so they don't interfere with the operation and life of the product.
It has wheels to make it easy to move from place to place, while the white finish matches the décor of most homes. It looks stylish and its smaller size means it will not be in the way of foot traffic.
The overall features, price, and usability of this humidifier make this an easy choice for our #1 pick. When you also consider the low maintenance, including only needing to change the filter when it is dirty, it becomes clear why we love this one and feel it is one you will be satisfied with for a long time.
Pros:
High capacity tank
Long running time
Customizable humidity settings
Portability with large area capability
Cons:
Filter will need to be changed
Frequent refills in dry environments
Runner Up: AIRCARE EP9 800 Digital Whole House Pedestal Style Evaporative Humidifier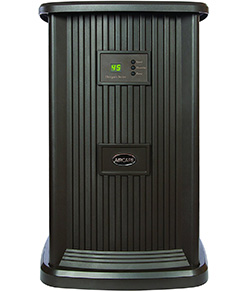 AIRCARE EP9 800 Digital Whole House Humidifier
Excellent Performance Guaranteed
AIRCARE EP9 800 Digital Whole House Humidifier
This Aircare Humidifier boasts of a large tank capacity, digital operation, and is fully customizable and portable. Plus, it is also easy to clean and operate.
Why is it Our 2nd best choice?
As you can see in our research report, this humidifier was edged out of the number one spot only because it features a smaller reservoir tank and a shorter run time. It otherwise has the same number of positive features as our Top Pick. This model also lets you fully customize the humidity settings.
The price range is comparable, coming in slightly cheaper than our top pick. When we evaluated the rating frequency for this product, we found it was rated by consumers at a very rapid pace. The first 10 came in 15 days, the second 10 in 30, and the last ten were in 18 days.
AIRCARE EP9 800 Digital Whole House Evaporative Humidifier Review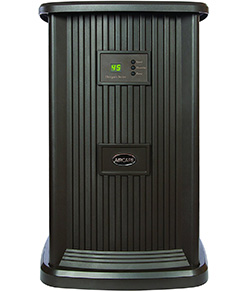 While the capacity of this unit is smaller than our number one choice, it is only slightly less so. With the pedestal style, the large capacity is still there, but less space overall is taken up by the unit. It also means a need for less frequent refills to keep it in operation.
It does not have the single button control operation featured in our top pick, but boasts every other feature as its better brother. Unlike some machines, it will also turn itself off when empty. This can save you from having to maintain it in the end.
This includes digital operation, with stats displayed for the current environment. The current temperature, the humidity of the house and more are easy to see at a glance, and the humidity you would like the house set to is right there, as well.
It has a wide range of fan speeds, nine in total, which automatically adjusts to match the need the device detects. This is actually one of the highest fan speed ranges we have seen. When there is little need for the device to be in operation, it either turns itself off completely or runs at a low fan speed setting, saving water and power.
While some users have complained the humidistat is inaccurate, others have found it to have no issues. Since this only impacts the automation features, the accuracy of it may or may not be important to you, especially if you have it in constant operation.
Its performance is also high, bringing the humidity in the air up rapidly, without a lot of noise.
Pros:
Large tank capacity
Automatic operation
Easy to clean and operate
Portability
Operation indicators
Cons:
Tank must be filled
Automation not always accurate
Filters need to be cleaned and changed
Shorter run time
Only 2400 Sq. ft. area coverage
Budget Pick : AIRCARE MA0800 Digital Whole House Console Style Evaporative Humidifier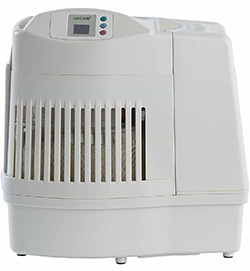 AIRCARE MA0800 Digital Whole House Humidifier
Best Bang for Your Buck
AIRCARE MA0800 Digital Whole House Humidifier
Easy operation thru digital controls and automatic humidistat, a three-speed fan, and easy to fill and assemble are just some of the best features of the Aircare MA0800.
Why we consdier this to be our Budget Pick?
Because you may not have a high budget, we found our top pick that gives you the "
Best bang for your buck
." If you look at our research report, you will find this unit has the highest amount of positive features, while still being at a low price.
Handling up to 2600 square feet, this was rated our Budget Pick.
It has the popular digital controls and automatic humidistat for easy operation, a three-speed fan and quiet setting, and automatic shut-off when moisture levels reach the desired point. Reviews of this product have been coming in at a good pace also at 10 per month for 2 months, and the third 10 in 13 days.
AIRCARE MA0800 Digital Whole House Console Style Humidifier Review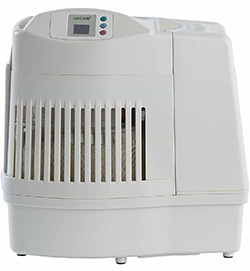 The operation time on this unit is as high as with our top pick, though it covers a much smaller area overall. The tank capacity is also smaller, at 2.5 gallons, which will increase the frequency it needs refilling, especially if you are in a dry area.
However, the unit also boasts automation features. The digital humidistat tracks the current levels of moisture in the air and adjusts the output of the device accordingly. The three-speed fan, in combination with a setting to make it quieter at night, adds to the ability of this unit to keep up, even with it having the lower amount of space it can cover.
This saves money in the end since it will not need to be constantly active. It will also turn itself off when there is no water left in the tank, so you do not have to worry about any internal mechanisms breaking or wearing out, as you do with some other devices.
As a console, it will take up a bit of space, though not nearly as much as some standing console style humidifiers, since it has the smaller tank. In addition, while it is portable, it is a bit heavy when full, which might make you decide to leave it in one spot.
The amount of space it humidifies is enough for some homes; but, if you have a larger house, you might want to buy two of the devices to ensure your whole house is covered. Since it is a budget model, this is actually doable, and you will still be able to come in under budget.
Even with this unit being "on a budget," people have had a good response to it, because it helps them breathe easier and keeps the moisture in the air, even when compared to the "big boys."
The many positive features combined with the low price makes this a good choice.
Pros:
Easy to assemble
Easy to fill
Humidistat for automatic operation
Multiple fan speeds
Cons:
Humidistat not always accurate
Smaller tank means more refills
Needs cleaning, replacement filters, and wicks
Best for Beginners: HONEYWELL HCM-6009 Cool Moisture Humidifier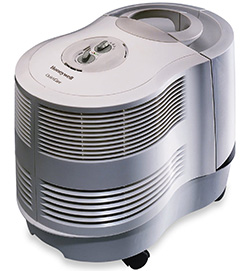 HONEYWELL HCM-6009 Cool Moisture Humidifier
Most User-friendly and Efficient
HONEYWELL HCM-6009 Cool Moisture Humidifier
Huge 9 gallons per day capacity allows it to cover a large, multi-floor area footage. It's Cool Moisture feature lets it work well with an A/C system, and comes at a very affordable price.
Why is it Best for the Beginners?
If you glance at our research report, you will see the Honeywell HCM-6009 is, out of the products we have tested, the easiest to use. This Quiet Care humidifier has a large 9 gallon-per-day output with up to 24 hours of operation per filling.
This pick can handle up to 2300 square feet of space and has adjustable humidity controls with three moisture settings. Compared to tower models, this unit also operated 30% quieter. It is affordable for any budget and is simple to set up compared to other models.
The fact it doesn't need warm water also saves you money and won't compromise air conditioning. With all these features, it just had to be rated our beginner pick. It received reviews and was rated very rapidly, with the first 10 coming in 28 days, the second in 30 days, and the third 10 in 14 days.
HONEYWELL HCM-6009 Cool Moisture Humidifier Review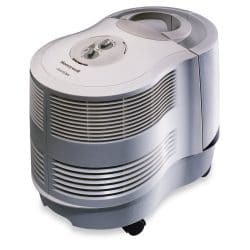 Our beginner pick has a huge capacity in comparison to other models, with 9 gallons-per-day of operation. It is also a multi-room unit, covering a large square footage area with little effort. The Cool Moisture aspect also keeps it working well when using central A/C.
It does not feature automated settings. Instead, you set it to the desired fan speed and let it run, which can be a hassle for some people, but, if you are using it constantly anyway, this is not a major issue. It is especially effective in drier climates to keep up with the lack of humidity.
The unit comes with a pre-filter that can capture any large dust particles, as well as dirt and pollen, which can be a vast improvement in your home. This filter is washable, so, when it does end up filled with gunk, it is an easy matter to wash the grime away and put it back in place.
It also has an antimicrobial filter to prevent the growth of molds, bacteria, viruses, and algae. These can sometimes be issues with console humidifiers, and Honeywell has thought ahead of time to help ease those issues.
Compared to tower model humidifiers, this one runs up to 30% quieter, which is important for those who do not like white noise in their home or workplace.
That aside, some users have experienced noise coming from the unit when they first power it on. The common complaint is it sounds like a rattle or vibration happening, which might be related to the motor inside. However, not all users have reported such problems, and it stops after it has been operating for a little while. Your experiences with this may vary, but it is a concern for those who do not like a lot of noise.
The Honeywell HCM-6009 is a good choice for the beginner because there is a "fix it and forget it" way of operation with it, while still maintaining many of the positive features of the bigger models.
Pros:
High capacity with large area coverage
Ease of operation
Budget price
Cool Moisture won't interfere with air conditioning efficiency
Cons:
Some experience noise/vibrations
The unit is heavy, even empty
Heavy use results in frequent cleaning and filling
Advanced choice : APRILAIRE 600 Humidifier Auto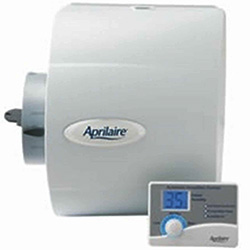 Aprilaire 600 Humidifier Auto
High Capacity and Large Coverage
Aprilaire 600 Humidifier Auto
The Aprilaire 600 boasts of a 4,000 sq. ft. coverage area, programmable memory functions, ease of operation due to the absence of a tank, plus it requires low maintenance and upkeep.
Why we consider this Advanced?
Our research report shows this humidifier has a lot of important features and advanced systems, especially when compared to the other products on our list.
The huge 4000 square foot coverage area
will take care of the entire home. These features and more make this our top-rated advanced pick.
The handy Copy feature makes day-to-day programming a simple matter. It allows 7-day programming, with different humidity levels for each day. This is the only pick that comes with permanent memory, meaning if power is lost, the programming, time and date are not lost from volatile memory.
This model was rated by consumers slightly slower than our other picks, with 10 in 3 months, the second 10 in 2 months, and the third set of 10 ratings taking 7 months. While this model is a little higher priced, it is still affordable for most budgets.
APRILAIRE 600 Humidifier Auto Review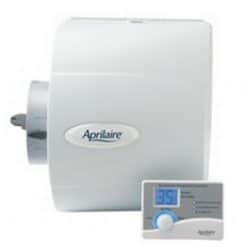 This whole house humidifier is an amazing device, with a high capacity and a large amount of space it covers. It is easily capable of making the moisture levels in most homes comfortable, and does it quietly, as well.
Since it attaches to your central heating and/or cooling system, it might require a few tricky set-up techniques to make it work, but installation help is available if you are not able to do it on your own. As with any of this type of devices, it is important to have a water drain nearby where you install it and avoid any electrical wiring.
The unit turns on when the furnace is running or when there is a need for more humidity to be in the air and will bring the levels up quite rapidly in comparison to other models. It will keep the levels correct so there is no mist or condensation forming on windows, which can happen in the "always on" models.
This automation becomes even easier with the programmable memory functions of the device. You can, up to seven days ahead of time, dial in exactly what humidity you would like your home to have. While a number of these types of devices feature similar programmable features, this one is the only one on the market to have non-volatile memory.
This means if power is lost, the device will still maintain its programmed time, date, and humidity information. You can also copy the data from day to day, making it one of the easiest to use.
There is also no tank since it attaches directly to the water supply, so there is no need to worry about molds or bacterial growth in a stagnant tank. No refilling is involved, so its ease of operation exceeds any console or tower model, based on that alone.
While these features make this a great choice, it does have some complicated installation issues. If you are looking for simpler solutions to humidify your home or still weighing the pros and cons of using a humidifier, one of the other whole house humidifiers on our list might better serve you.
Pros:
No tank so it is easy to operate
Programmable timer and humidity levels
Permanent memory for settings
Low maintenance, low upkeep
Cons:
Complicated setup if you are not handy
A drain will be required
List of 5 Other Whole House Humidifiers We Reviewed
No. 6 : APRILAIRE 700 Automatic Humidifier Review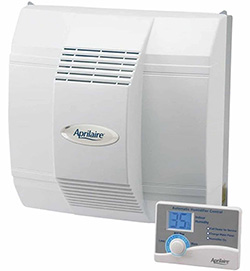 Aprilaire 700 Automatic Humidifier
Best for Multi-level Coverage
Aprilaire 700 Automatic Humidifier
Programmable features, 4,200 sq. ft. space capacity, smooth and quiet operation and integration with HVAC system make the Aprilaire 700 an ideal home or office humidifier.
Aprilaire 700 Automatic Humidifier has a large square foot capacity, coming in at handling over 4200 Sq. ft. This central unit works well in multi-level homes and businesses.
Spreading the moisture-mist directly through the furnace vents in the building, it makes use of the warm air from your furnace to assist this and keep energy use low.
It is capable of raising the humidity to levels higher than 50% in your home and do it efficiently, with very little power used. It is also smooth and quiet, especially in comparison to some of the console models. Since it integrates directly with the HVAC system you have installed in your home, it does not have loud fans of its own.
One advantage of this unit is the programmable features, including giving you vital statistics, like current temperature, relative humidity and other things important to know when setting your device. These programming features make its ease of use outstanding, especially when compared to similarly priced models without this ability.
It, however, lacks a non-volatile memory. That means it will lose its programming if power is lost. Reprogramming it is easy, though, so this should not be a big factor in your decision to purchase.
Another advantage of this unit is it only requires a little bit of maintenance to keep it efficiently running. In fact, no more than once a year will you have to do anything to it, other than programming where you want your comfort levels.
If you are not a DIY person, the installation can be a little complicated, but for the average person, it should present a little issue to install. It is important to note, though, you must take all precautions if you do it on your own.
Overall, the Aprilaire 700 Automatic Humidifier is a good choice for whole-home humidity in one central location, whether you are a beginning user or you have more experience working with these devices.
Pros:
Easy to maintain
Programmable features
Vital statistics at a glance
Large space capacity
Cons:
Not easy to install
Requires a drain present
Higher price than other units
No. 7: AIRCARE H12-400HB 3-Speed Whole House Console Style Evaporative Humidifier Review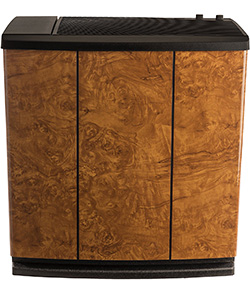 AIRCARE H12-400HB Evaporative Humidifier
Function Meets Form and Style
AIRCARE H12-400HB Evaporative Humidifier
This humidifier from Aircare boasts of a 12gallon daily high tank capacity for a large area coverage, a three-speed fan, and contemporary style makes it a valuable addition to your home or office.
This console humidifier covers a large area, coming in at 3700 square feet. This is a size large enough to cover the area of most homes, while also being a medium budget machine.
It has a 12 gallon-per-day output capacity, which is on the high end of all of the models we have compared in our research report. This high output makes it especially effective to protect you from the harshness of a dry environment. It will reduce the instances of illness, as well as bring relief from itchy skin and static electricity.
A great feature of this unit is the way it looks. It has a nice style, reminiscent of a wood finish, adding a pleasant sight to the room and is no bigger than an average aquarium, so it will not take up a lot of space, even with the large tank capacity. There are casters on the bottom, should you wish to move it elsewhere.
This model has a digital readout operation, making it easy to tell at a glance how things are working, but it has analog controls instead of simple buttons to push. This is not detrimental, since most of the time, people set the consoles to a certain comfort level and let them run. Once set, you can close the panel to hide the controls away, enhancing the appearance.
It features a 3-speed fan and a humidistat, which will adjust the speed of the airflow accordingly. This helps to save electricity and lower the amount of time you will have to refill.
The tank will hold up to 5.4 gallons, which is a bigger capacity than our top pick, and will run, according to the manufacturer, up to 45 hours, though some users experienced less.
With a long operation time, a huge water tank and a great look, this humidifier would be a choice you could be satisfied with for years to come.
Pros:
High tank capacity
Large square foot coverage
Simple to use
4-speed fan
Cons:
The high fan setting can be loud
No on/off automation
Heavy and a large footprint
No. 8 : APRILAIRE 500 Humidifier, 24V Whole House Humidifier Review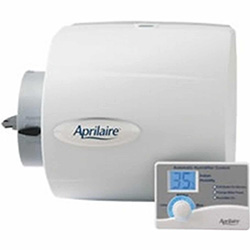 Aprilaire 500, 24V Whole House Humidifier
Best in Efficiency and Ease of Use
Aprilaire 500, 24V Whole House Humidifier
Digital controls lets you program the humidity levels to suit your comfort and preference. Once the humidity levels reach the programmed settings, the device turns off automatically, saving water and power.
When looking for the best whole house humidifier, one feature most people look for is automation. This unit has it and does it with a nice package and cost.
Many units that connect directly to the HVAC system of the house use a lot of water. In comparison, the Aprilaire 500 will only use 3 gallons per hour, and in return, input .5 gallons of mist into the house. This gives it the ability to act quickly, covering up to 3000 square feet.
If you have a home that is tightly constructed, this unit will still function perfectly, humidifying the whole house, including multiple levels. Anywhere your home has duct-work available the moisture will come through.
It is automated, with digital controls, letting you program the right comfort levels for you and your home. Once the humidity levels have reached the settings you input, the device turns off, saving water and power.
That automation makes it a great addition to the home, helping to reduce dry and itchy skin, bacterial accumulations and static electricity. Even in winter months, the added moisture will make the air feel warmer, which will reduce your overall heating bills.
As with most units of this style, it is not as easy to install as simply setting up a console system, but once it is in operation, using its functions is a breeze. It has a digital readout and sensors that will tell you what the current levels of the house are at, and let you set it accordingly. Then, you can just walk away and enjoy the comfort.
We like this unit because of its efficiency and ease of use, once installed. The need for maintenance is also low comparatively, which gives it a nice bonus.
Pros:
Easy to operate
Digital controls
High efficiency for the cost
Cons:
Difficult installation
Programmable memory is not permanent
No. 9 : AIRCARE EP9 500 Digital Whole House Pedestal Style Evaporative Humidifier Review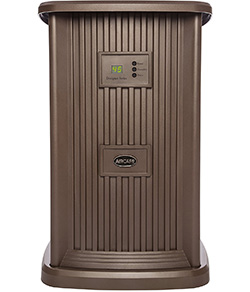 AIRCARE EP9 500 Digital Whole-House Humidifier
Nicely Styled to Match Your Interiors
AIRCARE EP9 500 Digital Whole-House Humidifier
Made with interior design in mind, it works on humidifying your home while blending in with the décor. It has a 3.5 gallon capacity with a long run-time, is energy efficient, and has nine fan speeds.
Pedestal style humidifiers are not always the best-looking devices, which can be difficult for those who are style conscious.
The Aircare EP9 500, by comparison, is a nicely styled machine that will match most decor, while adding the much-needed moisture to the air. Made with interior design in mind, the ability to insert tiles into it helps to make it more closely match whatever style you have in place.
It boasts a digital humidistat, meaning it automates for your comfort and ease of use, maintaining the humidity levels you desire, once set. Since it has such a large number of fan speeds, making the room comfortable for you is not difficult for this great product.
Unlike some consoles, you can fill the humidifier directly, making it simple to do, since there are no tanks to carry. The 3.5-gallon capacity of the interior tank keeps the mist going for an amazing 60 hours of run time. Easier filling and a lesser amount of time necessary make this product a pleasure.
Even with its size, it is still able to humidify a home up to 2500 square feet. Given its energy efficiency, it is a nice bonus. It can handle multiple floors, but the upper levels might not receive as much moisture as the floor it is installed in. You can easily get the most out of this humidifier with some tips.
To make up for this, you can place it on the upper floor, so the moisture makes its way down. It is not an excessively expensive product, though, so you might consider purchasing secondary units, with one for each floor.
This unit is heavy. You will not want to move it frequently, but since it does handle a large area, the need to shift its location will be low.
With nine fan speeds, it will definitely help to cover any of your needs and keep you comfortable. The more regulated amount of moisture in the air will let you turn the thermostat down, giving you money saving options in the end. This, in turn, means the unit will pay for itself, by saving you energy costs.
Whether you are looking for something decorative or something that will simply do the job well, this humidifier will suit the task, and look good doing it, too.
Pros:
Large tank
Easy to fill
Energy efficient
Long runtime
Digital operation
Cons:
Heavy
Frequent filling may be required
Higher maintenance than comparable units
No. 10: AIRCARE 696 400HB Digital Whole House Console Style Evaporative Humidifier Review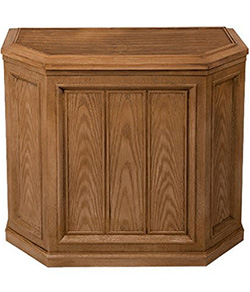 AIRCARE 696 400HB Digital Whole-House Humidifier
Stylish Look and Feel meets Functionality
AIRCARE 696 400HB Digital Whole-House Humidifier
This Aircare console style device boasts of digital controls that automatically adjust humidity levels and turns it off when unneeded, a 45 hours continuous operation, and a 5.6 gallon capacity.
One nice feature with humidifiers having digital controls is their ability to have you be as hands-off as you can be. That is the case with this unit.
The digital controls will automatically adjust the output of the device to keep the humidity levels where you want them set. The readout also lets you know what you have the humidity level goal set for, and, at a glance, can see what it is currently at, as well as the temperature and fan speeds.
Once it reaches the desired humidity level, the device will turn itself off, saving power consumption and cost.
Dual tanks refilled with a hose make it easy to get the water back into the unit when it is running low. However, the 5.6-gallon tank capacity will help keep the number of refills needed down. There is little difficulty in filling the bottles from a sink, and if you have the unit stationed near one, it will make the task even simpler.
Since it also has 45 hours of continuous operation, this makes refills even less necessary. Most users will find they only need to refill the machine once per week, especially if they are in climates not prone to being arid.
It can cover a house up to 3600 square feet in size efficiently, which is large enough to protect most homes from dryness. This will lower the incidences of allergy symptoms, sickness,  and static electricity, and even save on your heating bills since wetter air holds warmth better.
The style of this unit is nice, with a pretty wood-grain finish. It would look good, in regards to the decor in most homes. The drawback to the console style of it, however, is the overall size of the machine and the weight, exacerbated by the addition of water to the tanks.
Although it is portable, it will serve you better by finding the spot in your home with the best airflow and leave the unit installed at that location.
It looks stylish and many positive features it boasts of could make it the best whole house humidifier for your home.
Pros:
Stylish look and feel
Digital controls with automation features
Turns off when it is not needed
Large tank and operation time
Cons:
Large unit with a heavyweight makes it hard to move
Frequent cleaning and maintenance
Safety and Precautions
Now that you've found your best whole house humidifier, The Soothing Air wants to ensure you know the best ways to operate it safely. We don't want to see anyone or their belongings get hurt if we can prevent it with a little information.
Console humidifiers often have the issue of needing frequent filling. Since some of the tank capacities are large, it means you will carry a fair amount of weight to keep them operational. To combat this you could keep the unit near a sink to make refills easier.
Be wary around your steam humidifiers until you are familiar with which surfaces may get hot. Watch animals and children closely to be sure they don't get burned. Not all have an exposed surface that can get hot, but be sure if/where those surfaces are before relaxing the guard.
Whole-house humidifiers require complex installation for optimal safety. In some cases, you will need a professional to get it done. You'll be dealing with your water supply and possibly electrical wiring.
Because you will be dealing with your water supply and be tapping into it in some way, if you do not know what you are doing it can cause damage to your home. In addition to this, installing a humidifier near wiring requires special precautions.
To preserve the integrity of your home and possibly your life, consider all safety precautions before you attempt the installation yourself. Unless you are confident in plumbing and wiring, it might be dangerous or costly not to call a certified installer.
Wrapping It Up
While finding the best whole house humidifier for your needs can be a confusing process, we hope our research report and reviews will help you determine the best fit for yourself and your budget. Whether it's a cool, warm, or hot water evaporative-mist model you want, you're sure to find the right fit following 8 easy steps.
Humidifiers make life much more comfortable, especially if you live in areas without a lot of moisture. Even in areas with a lot of humidity, the winter months can be drier than a desert. Many are not aware of the adverse health effects such conditions can bring. Now you are armed to combat them.
The comfort you discover when you get your new whole house humidifier will surprise you. Enjoy the experience.