The winter months are fast approaching as the summer nights dwindle and the sky gets darker and darker, earlier and earlier. Along with the changing of the season, comes the inevitable cold. Some, admittedly like the winter, but even the most enthusiastic amongst us are left cursing as their homes' electricity bills skyrocket, and they're left shivering at any attempt on trying to cut heating use down.What every winter calls for, is a ridiculously efficient heater that best uses every last smidgen of your electricity and is of course wonderfully warm and stylish. In an ideal world, you could type in the word heater into your favorite search engine and be heckled with brilliant recommendations that really do fulfill these categories.
We all quite know that reality isn't all that forgiving, which is why we here at The Soothing Air come in to make your life all the easier. We've researched tirelessly to determine which type of heater really does work best and have settled on infrared as one of the most refined technologies for home-heating. Away from their brilliant efficiency, infrared heaters are wonderfully simple and safe to use making them brilliant for all ages.
We didn't stop at just finding out the best category of heaters. At The Soothing Air we delight in going the extra mile and so we even determined that quartz seemed the most efficient energy source. Now, we have compiled this list of infrared quartz heater reviews– lean back, relax and peruse at your leisure, in a soon to be toasty room.
Why Should You Trust Us?
You can't trust just anyone when it comes to investing in the one component on which your comfort depends; your heater. I mean, imagine trusting an online review, spending your hard-earned cash on something you think will be great and keep your home perfectly warm, and it just not working particularly well. Or even worse, breaking after a week! It seems safer to avoid the internet with the amount of risk involved, and yet, where else is there to turn to for mass customer reviews?
You could potentially scour through hundreds of products and diligently study infrared heater review after review yourself, or, you could leave that to us. Here at The Soothing Air we bear the brunt of the load and take on this monumental task for you. By that, we mean we're not sponsored by any of the products we review, so we're really not biased in that respect at all. We're entirely devoted to finding the best products that fit you, and not those products that ensure a better pay cheque for us.
So, how exactly do we know how to do this so well?
With 5 years of experience, our team has refined its methodological product research skills to a refined extent. With our reader-focused approach, we really do strive towards finding those products that would best suit the average American.
We wiled away a full 72 hours in researching the best infrared heaters available on the market, using a diverse team intermittently throughout the lengthy process, focusing on eliminating any remnants of bias. We studied the 13 best infrared room heater brands, as well as over 35 different infrared room heaters before cutting it all down to the best 25.
We then used a checklist of ideal characteristics, based on those points most advocated by customers in infrared heater reviews, and refined it all down to the top 10. And that's what you're left with here – the top 10, very best infrared room heaters of 2018. Once you have managed to set up the premise, focus on the following points:
What is an Infrared Heater?
Technology really has reached its height with infrared technology. Imagine a heater that utilizes not most of the electricity you're channeling through it, but near 100% of it. Infrared heaters do just this. Now, to how exactly they achieve this efficiency – the core aspect of an infrared heater is, of course, infrared light.
Infrared can be created through a variety of means, these popularly include a quartz or halogen bulb of which are used within the heater to emit infrared rays. These rays actually instigate surrounding air molecules quite quickly, thus creating movement and heat.
The more top of the range heaters do come equipped with an inbuilt fan that aids in ensuring even instigation of air molecules, and through this, consistent heat flow. Infrared heaters carry no risk of carbon monoxide poisoning and are so much safer than your typical gas or oil run heater.
To make things confusing, infrared heaters aren't always labeled as such – they're sometimes dubbed under the technology used as the source of their infrared, i.e – a quartz heater, or a halogen heater, or sometimes even a radiant heater.
We've saved you the trouble of weaving through all these synonymous titles by literally going through every name type to find the very best infrared heater available, regardless of infrared source.
What to Look for in an Infrared Room Heater?
When you're buying an infrared room heater to stay warm and save on your utility bills, there are a few characteristics that point to its quality, efficiency, and suitability. Some notable ones we've picked up on through our research are listed below:
Heating capacity – The greater the heat capacity, the greater the area that can be heated. Infrared heaters rely on air to create heat, this means that the heat capacity of an infrared heater depends on air. Air itself has a wonderfully high heat capacity due to the nature of gas molecules.
Structural integrity – The last thing you want is to invest in an infrared room heater on the cheap, and have it basically fall apart – or worse still malfunction. Bear in mind that even if your heater does malfunction, it's far more likely to malfunction in a safer way that an say, a gas heater would. All the same, you're going to want to invest your dollars in the best infrared heater money can buy, if you use our article as a guide you shouldn't come across any poorly built pieces.
Heat range – Every heater should come with at least two different heat settings – low, or high. The better the heater, the more flexible the heat offering, the best infrared heater convenience wise should have a dial, or at least 3 separate settings for low, medium and high heat. With heat being the core function of a heater, we'll be talking about it throughout the article, so forgive the brief surmise for now.
Noise – Some heaters can be a little noisy, especially ones with fans; emitting a sort of hum from the electricity. This hum ranges in decibels, with some heaters being constructed specifically with noise reduction in mind. You're probably going to want the more silent models, but do bear in mind that the best infrared heater for this does come at a price.
Warranty – This is an integral piece of equipment that ensures an optimal living standard; I mean, having a heated house is just as important as having access to water, or even food. You don't want to risk freezing your socks off in the winter, and in line with this, it's wise to purchase heaters with warranty and support services.
Features – Some infrared heaters do have nifty little features that best ensure both practicality and ease of function. We're going to cover what exactly makes each heater we're listing that little bit different by defining the individual features. Some may be irrelevant – like wheels if you're planning on having it in just the one place, whereas some features may be perfectly relevant, so keep a keen eye whilst reading through for what suits you best.
How We Picked and Tested
In light of full transparency, we like to reveal the exact process behind our results, and our infrared room heater selection is no exception to this rule. We really think it's important to allow you, our readers, to personally judge how objective our process really is. We hope it gives you a little peace of mind, or if you're still feeling a little skeptical after reading through, feel free to check out our full report of which we've made public.
So, now to exactly how we reached the best infrared heater(s).
We foremostly researched exactly what type of room heater is the most effective and efficient, and settled on infrared as the best type of heater. We then scoured through over 12659 individual customer reviews of an array of different heaters, from the very best infrared heater, to the worst. We did this to extrapolate those characteristics that best suited customers – we basically managed to compile a checklist of features that a hypothetical ideal, best infrared heater would have.
This checklist is what we framed our further research around, analyzing over 35 different products in regards to it to determine superior products. We managed to get the 35 heaters down to the 25 best infrared room heaters.
We treaded carefully here on, as we really wanted to ensure that we didn't eliminate any potentially great candidates. So, in erring on the side of caution, we thoroughly researched each brand of the 25 best infrared room heaters. This involved visiting company websites, reading an array of descriptions listed on store pages, as well as reading through blogs and individual reviews that critics left to really hone down exactly how good each of these heaters really were.
To ensure complete validity, we then recruited a group of 25 diverse volunteers who willingly tested each heater in their own home! We used their feedback to compare back to our online findings and managed to eliminate 15 candidates from the list.
After all of that kerfuffle, we ended up with the top 10 we have here today!
Our Top Ten Product List
Our list of the top 10 infrared heaters begins with our very own top pick of the best infrared heater available, followed by other optimal options available for purchase online. Each infrared heater we've listed here conforms to a great deal of the 60 ideal feature checklist we compiled. This means that pretty much every one of these heaters is amazing. Do bear in mind that each of them has individual strengths and so there is no universal one-for-all.
By reading through countless customer reviews, studying manuals and company websites, we've managed to discern only those infrared room heaters that really do work well.
Read on to find out our top 10 infrared room heaters for 2018.
Why is This Product Our No. 1 Pick?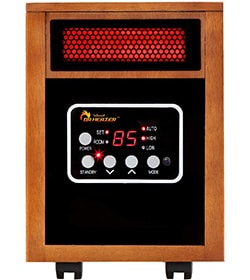 Dr Infrared Heater Portable Space Heater
Our No.1 choice
Dr Infrared Heater Portable Space Heater
This heater has a nice modern design, as well as a completely silent blower. It is also priced really well, and is yet a still good energy-saving model as well, whilst boasting all the digital controls you'd hope for.
Before we get to the nitty-gritty of what exactly makes this heater so great, we're going to just quickly explain why this heater made it to the auspicious position of top pick. Out of our 60 ideal features for a hypothetically perfect infrared room heater, this heater actually has 26. Now, we know 26 doesn't sound like a high score, but when we considered the value of each included feature in relation to customer satisfaction we knew we had a clear winner.
Add in a reasonable price tag of around 90 USD in the context of most quality heaters costing upwards of 200USD, this heater gives you refined technology, an array of relevant features and all within budget too!
No surprise here – it's also popular. This heater has the highest number of reviews out of every heater we've listed here today with a total of over 3461 delighted customers on Amazon alone. It also has the second highest rating on Amazon for infrared room heaters, making it a pretty obviously reliable choice.
Review frequency is another telltale sign of quality, this basically refers to the number of reviews given in a limited time frame and shows just how well a product is really selling. Our best infrared heater has around 10 new reviews posted on Amazon every fortnight on a regular, consistent basis. This is a pretty huge achievement for a product that doesn't require repurchasing!
Comparing back to our other candidates for the best infrared heater, most other heaters on our list have far lower review frequencies with around 10 a month or so.
This heater is also efficient; it's able to quickly heat a large room whilst limiting electricity usage. It does this through its Auto Energy Saving software, of which automatically alternates temperature to keep things consistent. The heater itself is also safe with inbuilt anti-tip technology as well as insulation based heat protection. To add to all of this goodness, it has an efficient fan that's also really quiet! So you don't have to worry about irritating background noise as you cozy up this winter.
Detailed Review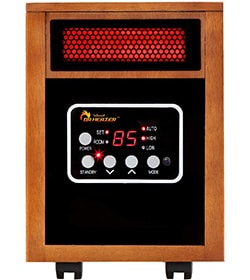 Design:
This heater is perfectly portable, with removable wheels and a weight of around 23 pounds. In saying this, it's also particularly stable as a result with its anti-tip technology and robust body. The heater itself looks stylish with wood paneling as well as a digital temperature display. It relies on its quartz bulb as well as PTC. There are no hard to use dials, instead the control panel features simple buttons with separate up and down buttons to vary temperature levels.
Accessibility:
There's an easy-to-read digital thermometer reading that shows up right in the center of the control panel, so you can see the room temperature well even at a glance. The heater is of course, electric but with it using infrared technology, it uses very little electricity. This heater actually claims to have the capability of cutting your overall heating bills in half due to how little electricity it takes to run! The control panel is easy to use and has with it being digital, can be seen even in low light.
Features:
This heater has 3 different power settings. An automatic power setting is the easier option if you're preoccupied, but there are options for a low setting of 1000W, as well as a high setting of 1500W. Going back to the automatic setting, it's the best option should you be looking to cut down on your heating costs as the heater itself is able to function intelligently. It sounds pretty space age but by analyzing the room temperature, the heater is able to appropriately alternate heat emissions to ensure that the room temperature stays completely consistently warm. The high setting of 1500W does also function slightly intelligently, with cycling off and on again to ensure that room temperature doesn't get too high. It's also the fastest to heat up a room so if you're freezing after a day out, it might be your ideal option.
Quality and Convenience:
There's an inbuilt timer within the heater that can be manipulated to specifically heat for just the right amount of time. There's also the energy saving software installed which ensures that the heater only takes what it needs so your electricity bills if anything, decline post purchase. It even comes with a remote control so you can alter temperature without having to get up and bend over! There's a digital thermometer right on the face of the control panel and the inbuilt blower is wonderfully quiet.
Other factors:
The great thing about this heater is the fact it has a really reliable warranty. The warranty service offered by Dr. Infrared is for a full three years. Positive feedback practically swarms every site where this heater is listed, from customers from all over the globe. Consistent positive reviews and a lengthy product warranty really are the icing on the cake for this heater.
Pros:
3 year warranty
Silent blower
Energy saving
Reasonable price
Digital control panel
Portable wheels
Anti-tip
Remote control
Cons:
Its unique aesthetic may not fit your decor
Verdict:
This heater really is the best infrared heater available on the market. Overall, the console looks entirely modern, it even uses infrared technology in conjunction with energy-saving software to ensure that you're really getting the most out of your money. It's easy to use with a remote control, meaning that there's no need to crouch over to adjust the temperature from the comfort of your settee. The positive customer feedback and the 3-year warranty make the 90USD seem underpriced! Grab yourself a much-coveted winter essential with what is truly the best infrared heater of 2018.

Why is This Product Our Runner Up Pick?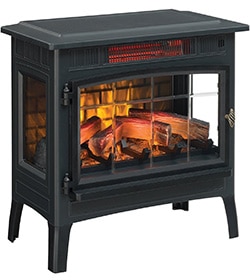 Duraflame DFI-5010-01
A timeless heater
Duraflame DFI-5010-01
This heater has a much more traditional look, so this may be one for ou if you want it to fit in with an older home and decor. It has digital control panels, but lacks some key features whilst still being expensive.
As great as this heater is, we couldn't bring ourselves to put it up as the best infrared heater due to the higher price tag and a reduced amount of features in comparison to our top pick. Our core motive towards listing this heater so high up our list is due to the fantastic way it looks.
So, more about the aesthetic of this product; it has an integrated 3D flame effect of which replicates exactly the sight of logs burning. It's absolutely magnificent and is guaranteed to not only heat your room up, but really just tie it together with the traditional warming glow of a crackling fireplace (without the mess or expense). This quartz fuelled beauty is able to heat rooms ranging up to 1000sqft in size. The use of quartz as a fuel source is also a real benefit as it doesn't manipulate air humidity – this means that the air won't be muggy or dry, just the way you're used to it being, so you can be guaranteed comfort.
Within the last 25 days, 10 positive reviews have surged up. There's a consistent review frequency of around 10-20 every 3-4 weeks.
We know this doesn't sound like an awful lot of sales but when you consider the number of people that buy without leaving reviews, as well as the fact that this is a one-time purchase, the ratings are actually impressive.
To add a little context, within three weeks, several hundred of these heaters sold with nothing but positive reviews surfacing after. This is clearly a popular, efficient product with the price tag to match.
Detailed Review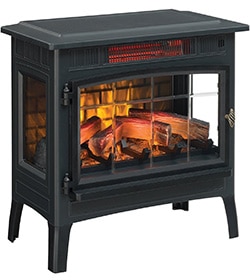 Design:
This heater's unique design is really what sets it apart from other infrared heaters on the market. Its artificial 3D fireplace not only looks crazily real (it even spits embers!) but can actually be adjusted as per your mood. There are five different settings for adjusting the flame activity between speed, color, and brightness – so, it's all completely in your control. The heater itself is quite small, and weighs in at around 28lbs. There are no wheels removable or otherwise, so you're going to need a fixed place to keep it. An empty fireplace nook makes the ideal place, or otherwise somewhere quite central to allow the fireplace to be the centerpiece it is. There's a very basic digital control panel that you can access by opening a little door on the fireplace, with the temperature clearly visible.
Accessibility:
This heater garners you a traditional fireplace aesthetic without the cost of purchasing fuel, or the time involved cleaning things through. It's quintessentially practical with its electric quartz driven core, the digital control panel is limited with the lack of a backlight and the fact you do have to open a little door to see the temperature, but it's clear all the same and functions well.
Features:
The core feature of this infrared heater is of course the fireplace design. There's no set heat settings with this heater, you type in the desired temperature on the digital control panel manually, and can later use the remote for heat adjustment. The heater is also able to sense when temperatures are too high, and will automatically shut off to prevent overheating, so you don't have to worry about setting the temperature too high and breaking the heater accidentally. This proves how safe this space heater is.
Quality and Convenience:
There's an inbuilt timer than is accessible both with the remote and the control panel, so you can decide exactly when you want your heater on. The fireplace module itself does use a little electricity, but it's only 4 watts, and can be switched off should you just want the heat without the fireplace effect. There's an inbuilt fan which has been described as customers as virtually unnoticeable noise wise, which is a clear positive sign.
Other factors:
This heater does retail for a slightly higher price than our top pick, with it being listed at around 200USD. The heater itself works efficiently in conjunction with the price tag, with a huge array of around 700 customer reviews on Amazon alone awarding the heater 4.5 stars. There's also a 3-year warranty included with purchase, although it is limited so be sure to read through carefully to determine eligibility.
Pros:
Realistic fireplace design
Overheating sensor
3 year warranty
Inbuilt timer
Digital control panel
Remote control
Quartz core
Cons:
No backlight on control panel
Always need to set the temperature manually
The temperature isn't directly visible
The warranty is limited
It's pricey.
Verdict:
If you're looking to replace your fireplace with something that still fits your home's traditional look, this infrared heater is the one for you. Its timeless design cohesively works with infrared technology to deliver substantial heat at a low cost. The quartz core won't dry out your air, and you can rest in front of customized flames night after night. You will, however, have to adapt the temperature manually to a larger extent than some other infrared heaters, the warranty is also somewhat limited. Because of these factors, as well as the higher price, this heater is great, but really not the absolute best infrared heater available.
Why is This Product Our Budget Pick?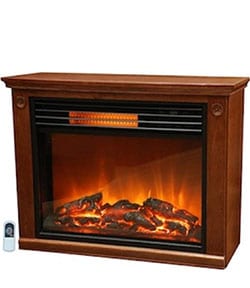 LifeSmart Infrared Quartz Fireplace Heater
Lots for your money
LifeSmart Infrared Quartz Fireplace Heater
This is a cheap, affordable, yet still great working heater. It is a nice reliable option that is efficient with a nice oak cabinet design. You get a digital control panel and remote, but this heater doesn't move.
Despite being our budget pick, this heater actually has the second highest ideal feature frequency out of every infrared heater listed here! With an incredible score of 22, this heater gets you an awful lot for your money. If you're counting your coins but really want to invest in infrared technology, this heater may just be the one for you.
It has a good customer base with just under 1000 reviews on Amazon, it sells well with an average of around 10-20 reviews every month or so, with the highest sale period being 30 within 18 days. This review frequency is actually one of the highest ones on this list, do bear in mind the one-time purchase nature of heaters, and that lower numbers really don't mean lower popularity. Despite consistent sales, this heater doesn't have the best reviews. We wouldn't knowingly list any inferior product on our site, and you can rest assured that the scores aren't catastrophic with a stable rating of 4 stars on Amazon.
Overall, if you're looking to invest in infrared heating at an affordable price, but really want to cash in on the amount of features infrared heaters offer, this heater might just be your best bet.
Detailed Review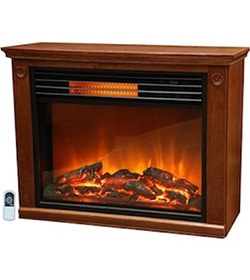 Design:
This heater has a traditional fireplace design, although it's nowhere near as technologically refined as our runner up, it's still a cozy look that ties in perfectly with any home. The cabinet itself is constructed from quality oak wood, giving it a classic finish that'll endure for decades to come. There are no wheels, and this heater is pretty sizeable too, weighing in at around 40lbs – you may need to recruit some help with installing it.
Accessibility:
Unlike our runner up, this heater does have the control panel visible which works wonderfully for functionality, although may compromise aesthetic for some. The temperature is directly visible, and the easy-to-use control panel is right at the front of the heater – do bear in mind that it does meld to a large extent with the design.
Features:
There are 3 heat settings for this infrared heater, with an ECO mode included to ensure electricity conservation (and lower bills). The flames themselves have two different modes so you can adjust them as per your mood should you desire.
Quality and Convenience:
This heater does come with a handy remote so you can adjust the temperature from afar. The ECO mode also limits electricity wastage and helps save money. The inbuilt fan is wonderfully silent, with the manufacturer, LifeSmart, listing its low volume as one of its main positive characteristics. The quartz core of this heater also ensures that humidity levels remain comfortable and undisturbed.
Other factors:
This heater retails for around 80 USD, and has a strong customer base as well as a good review rating. There's also a 3-year limited warranty included upon purchase which should allow the heater to last you for years to come.
Pros:
Fireplace design
Remote control
3 year warranty
Digital control panel
Quartz core
ECO mode
Oak cabinet
Cons:
The warranty is limited
No wheels
Traditional design may not fit with your home
Verdict:
If you're looking for a cheap, reliable replacement for your fireplace without compromising on efficiency, this heater is definitely the best infrared heater for you. The fan is largely silent and the realistic fireplace design really ties a room together. With a 3-year warranty and 3 heat settings, including an ECO setting, this heater will save you money not only upon purchase, but in the long run too.
Why is This Product Our Advanced Pick?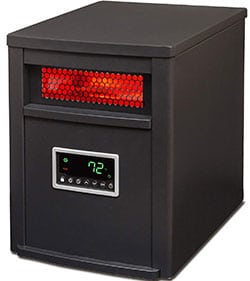 LifeSmart 6 Element Infrared Heater
Perfect for big rooms
LifeSmart 6 Element Infrared Heater
This is a heater for people living in big homes, or who are looking to heat a large area. It is reliable, as well as portable, but it does make a bit more noise than some of our other heater picks.
If infrared heaters entice you for every reason other than their capability to only heat limited room sizes, this heater might just be the one to convince you otherwise. It's the best infrared heater we've found that's able to effectively and reliably heat up to 1500 sq ft of room. With this immense capability, comes a slightly higher price tag than most; this heater is the most expensive of all the ones listed here today but its price is justifiably high.
This heater is so efficient that it basically fulfills the role of several heaters spaced out in a large room – it's able to consistently maintain temperature levels and ensure complete warmth without drying out the air. Investing in this heater means saving on space, extra expense as well as ensuring that no matter the size of your home, it stays perfectly temperate.
In regards to our checklist, this heater has 20 features of which all were rated as integral by customers across online platforms. With just under a thousand positive reviews as well as a stable 4.1 stars on Amazon, this heater is both reputable and popular. You're definitely getting your money's worth design wise with this infrared heater, the company Lifesmart cut no corners in constructing a sturdy, yet stylish build using top quality materials.
Detailed Review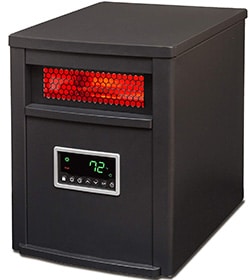 Design:
The heater itself weighs in at around 21 pounds, with removable caster wheels, this heater is well equipped for switching between rooms There's a clear control panel on the front of the heater, surrounded by a high quality, cool touch black and grey cabinet. All materials used are of course entirely fireproof.
Accessibility:
With a grand total of 6 quartz components in this humble machine, it's no surprise its able to heat larger surface areas. The use of quartz ensures the room humidity is maintained so the air stays comfortable. The control panel is large and clear, with a digital display showing the temperature on the front of the heater at all times.
Features:
The heater is cool to touch thanks to its fireproof casing, with 3 separate heat settings, including a 500 watt eco setting. The heater does come with a remote, although the digital thermostat can be manipulated manually. One thing that sets this heater apart, is its integrated air filter. That's right, this heater won't only heat, it'll actually purify the air around you using a filter that's guaranteed to last a lifetime.
Quality and Convenience:
There's an integrated timer of which allows you to set the heater on run for a maximum of 12 hours. The fan is also remarkably silent, yet wonderfully efficient enough to consistently heat even the largest of rooms. Even if you were to put this heater on its highest setting of 1500 watts, it would still consume no more electricity than a hairdryer. That's right, a hairdryer. This heater is so efficient and well made that LifeSmart's research showed them to be upto 66% more effective than gas or propane heaters, as well as so much safer.
Other factors:
All electrical components of this heater are fully insured for a year, whilst the heater itself comes under a 3-year limited warranty. The customer response to this heater has been overwhelmingly positive, with customers noting just how durable these heaters are. There have been some customers noting the noise from the fan, as well as a few discovering that it's unable to turn itself off when temperatures get too high, so do bear this in mind.
Pros:
Able to heat upto 1500sqft
Sleek design
Comprehensive warranty
Integrated air filter
Timer
Low wattage
Transportable
Cons:
Slightly more noisy than other heaters
Doesn't automatically turn off when the temperature gets too high
Verdict:
This heater is the answer to every large home owners heating problems. It's effective, its reliable and above all it looks great. The temperature is always easily seen on the large, clear digital interface, and the integrated air filter means you're doubling up on home appliances! The comprehensive warranty is another positive, with all electrical components being fully replaceable for a year of use. Customer reviews are generally fantastic but there are a couple negative ones that do take this product down a notch, especially considering its price. After weighing up everything, we really do think the heater is definitely the perfect choice for a large home.
A List of 6 Other Products We Reviewed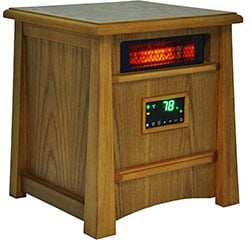 LIFESMART CORP LIFELUX SERIES
Well-made heater
LIFESMART CORP LIFELUX SERIES
This heater is effective and really well-made. If you want a reliable heater that can heat larger rooms, then this is a good choice. It is a bit noisy and more expensive than others, but those are the only negatives.
Design:
With a nordic looking wooden exterior, this heater wouldn't be amiss in a stylish apartment, or rather a cabin somewhere in the alps. The wooden cabinet, however, is cool to the touch and completely fire safe, making it a responsible choice. The heater has a clear, easy-to-use digital interface as well as removable caster wheels so you can transport it from room to room with ease.
Accessibility:
The heater uses a quartz core, of which doubles up its efficiency through the coil. Do bear in mind that the focal component of this heater, is still the quartz despite the addition of coil; the coil simply magnifies the efficiency of the quartz. The control panel is right on the front of the heater and the digital interface is wonderfully simple to use. The temperature shows up in large, clear numbers so you can read it at a glance.
Features:
Remote controls make things so much easier; the fact this heater comes with one is perfect; as it means you can switch it on from the comfort of your couch. The heater takes heating to another level with the capability of heating a room of up to 1800sqft, exceeding the limitations of even our advanced pick. An integrated air filter is also included within the module, as well as the 500-watt eco mode. There are a total of 3 different heat settings with the highest not exceeding the wattage of the average hairdryer, making this heater very efficient.
Quality and Convenience:
The energy saving mode allows you to use a tiny 500 watts to keep your 1800sqft room (or rather, hall) cozy. The fan is a little louder than some other models due to the extent to which it must blow to keep the temperature consistent. However, it is still largely unnoticeable. The remote control allows you to operate the timer for a duration of 12 hours.
Other factors:
A full 1-year electrical component warranty is included upon purchase, as well as a limited 3-year warranty for the heater itself. With around 800 customer reviews and a strong four stars on Amazon, this heater is popular for a reason.
Pros:
Able to heat up to 1800sqft
Integrated air filter
Comprehensive warranty
Remote control
Transportable
Small
Quartz core
Verdict:
This heater is well made, sturdy and above all effective. The use of coil in conjunction with quartz but boosts the efficiency of the heater and ensures that every inch of a potential 1800 sq ft living space is warm and cozy. The comprehensive warranty as well as the integrated air filter makes this heater the undoubtable choice for any large home owner (as long as noise isn't an issue of course).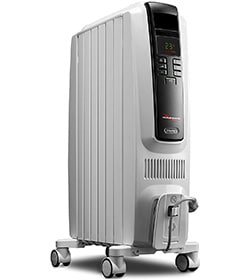 DELONGHI TRD40615E
A sleek heater
DELONGHI TRD40615E
This heater works ok, but it is powered by oil which is less safe and more expensive to run. However, it does look good, and it is also easily moveable and comes with all the digital controls you'd want.
Design:
With a sleek, modern design this heater fits seamlessly into any modern home. It's wonderfully narrow, meaning you can have it next to a desk or tucked away without having to make it the focal décor. There are wheels attached to the bottom making wheeling it from room to room a matter of a push. The heater itself is very light weighing in at around 26lbs. Do bear in mind that although there are electric components to this heater, it doesn't use infrared, rather oil as its main source.
Accessibility:
This heater uses oil in conjunction with an easy use electrical control panel to regulate temperature as per your desires. The chimney design is patented by DeLonghi and best maximizes electrical input for as much heat as possible. The steel exterior is not cool to touch and contact should be avoided.
Features:
This oil heater is able to cover a mere 250 sq ft; this pales in comparison to the ability of our infrared heaters. There's a small control panel situated atop the heater and a small digital screen displaying the temperature so you can keep track of things.
Quality and Convenience:
There's an integrated eco mode should you be looking to save money, and the heater's transportability makes it wonderfully convenient for small homes.
Other factors:
With around 500 reviews and a rating of 4.5 stars, this heater really doesn't live up to the same standards as our infrared heaters. It does show some consistency between reviews with a large proportion of customers being satisfied. The heater does have a very flexible warranty, with a full year's comprehensive warranty including all parts replacement, and a 4 years limited warranty post the year.
Pros:
Excellent warranty
Digital control panel
Transportable
Unique design
Cons:
Limited heating capabilities
Not cool to touch
Expensive to run
Verdict:
This heater is rather mediocre in comparison to our infrared offerings, it does function well enough, however, with it being fuelled by oil, is nowhere near as safe and efficient as infrared. Furthermore, the quality of heat is far more likely to be humid and affect the air in a negative manner which can indeed allow life quality to suffer. The limited heating capabilities of around 250sqft leave this heater perhaps more relevant to office-bodies or perhaps those looking for a transportable option for their studio apartment.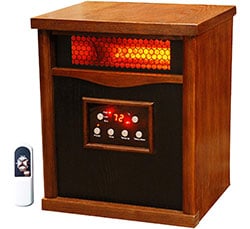 LIFESMART 6 ELEMENT
Cool to touch
LIFESMART 6 ELEMENT
This heater is completely firesafe and cool to the touch, which will appeal to the safety conscious amongst us. It has an air filter, and is a nice silent heather, two great positives.
Design:
Another wooden delight from LifeSmart here, with removable caster wheels making transport wonderfully simple. The wooden cabinet is entirely cool to the touch and perfectly fireproof. The heater weighs in at a fairly light 26 pounds, making it very easy to both install and move around the home.
Accessibility:
This heater utilizes LifeSmart's unique coil wrapped quartz technology to ensure thoroughly consistent heating. There are in fact 6 separate quartz components within this one heater, making it a very effective machine. The control panel faces outwards, with a small digital temperature display as well as easy to use buttons for any adjustments.
Features:
As all good infrared heaters do, this heater comes with an easy-to-use remote which allows you to turn the heater on and off whilst slouched away on your couch. The heater has a total of three heat settings, including LifeSmarts infamous 500 watt eco setting of which uses the tiniest amount of electricity to generate exponential amounts of heat.
Quality and Convenience:
This heater allows you to operate a timer via the remote; you can determine exactly how long you want the heater on for. Its integrated air filter is another huge benefit allowing you to maximize every potential. The blower on this heater is also notable silent, making it the perfect option for a study, or other living spaces you'd rather be a little peaceful. This is a feature that only oil heaters come with due to their lack of fans.
Other factors:
This heater doesn't have as many customer reviews as some of the others we've listed, hence the lower place on our list. It has around 300 reviews with an average of 4 stars. This is a stable score, one of which we find palatable considering the great array of features as well as the 3-year warranty (limited warranty). Do note, this heater is not intelligent and will not automatically shut off if the temperature gets too high, so use with caution.
Pros:
3 year warranty
Cool to touch cabinet
Remote control
Integrated air filter
Silent blower
Clear control panel
Cons:
Will not turn off automatically if the temperature gets too hot
Verdict:
This heater is great should you intend to use it under a little scrutiny. It works efficiently and actually cleans the air as it heats it to promote the most comfortable respiration possible. It doesn't, however, have a safety measure in place to inhibit overheating so if you're known to be a little absent minded it might be best to avoid this heater. Alternatively, if you need something cheap, effective and efficient this machine is wonderfully cheap and easy to run and may be a good choice.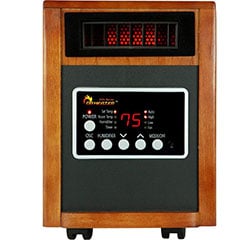 DR. INFRA-RED HEATER'S 1500W
For any home
DR. INFRA-RED HEATER'S 1500W
This heater will fit in and work well in most homes. It is nice and versatile and works by limiting the amount of electricity it uses. It only has two settings, but other than that it is paced with great features.
Design:
Most manufacturers tie you to a certain look with your heaters. Dr. Infrared put their customers first in manufacturing one of their best infrared heaters in both Walnut and Cherry wood to suit any type of décor. Both woods are hardwearing and wonderful to look at, and of course, most importantly, fire safe and cool to touch. The heaters come with integrated wheels which make them perfect for wheeling from room to room.
Accessibility:
A modern interface includes a digital thermometer as well as labeled buttons that allow you to manipulate the system, with separate buttons for both the oscillating fan and the humidifier. The heater has an electronic thermostat that means autonomous heater function is accessible with the press of a button, all the way up to the temperature of eighty-six degrees Fahrenheit. The maximum wattage is 1500 which translates to a high heat output thanks to the quartz run infrared technology.
Features:
This infrared heater is basically a three-in-one thanks to the integration of ceramic heating components. It works to combat every evil of winter by humidifying the dry air, heating the air, as well as creating sufficient air movement with the oscillating fan. These features have individual usage that can be tailored to fit the season; the humidifier works perfectly for dry hot summers just as well as it does the winter. There's an integrated air filter to add to this heater's seemingly endless benefits that purifies the air as it heats it, best of all its guaranteed to last a lifetime.
Quality and Convenience:
This heater is wonderfully well made, with integrated tip-over protection technology ensuring that things stay stable, and most importantly safe – something many people are concerned about. Another added safety measure is the overheat protection; a vital aspect that so many manufacturers skip out on. A small downfall is the fact that there are only two heat settings, high and low.
Other factors:
This heater includes a 3-year limited warranty upon purchase. To learn more about what might void your warranty be sure to read through the manual carefully. This infrared heater has a very low review frequency, with only around 300 listed on Amazon. With a 4 star rating, this product does seem great, but doesn't have the popularity to back it up just yet.
Pros:
Three year warranty
Integrated air filter
Transportable
Comes in two different woods
Overheat protection
Tip over protection
Digital interface
Integrated humidifier
Integrated oscillating fan
Verdict:
This heater is dynamic enough to fit any household, it's incredibly versatile, extending its use past the winter months all the way to the summer with its integrated humidifier and oscillating fan. The use of infrared technology as always limits the amount of electricity needed, meaning that you get the absolute most for the tiniest wattage. Would we call this the best infrared heater? Well, it's not too far, with a few hundred more customer reviews to establish its reliability we really think this could be a strong future contender.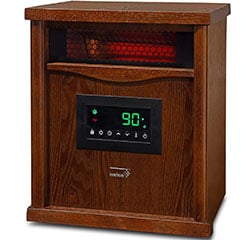 IVATION PORTABLE ELECTRIC SPACE
Safety packed heater
IVATION PORTABLE ELECTRIC SPACE
This heater has tonnes of safety features, as it is designed with families in mind. On top of that it is easy to use, is portable and also has a great eco mode. A good choice for families.
Design:
With a wooden cabinet, this infrared heater is both fireproof as well as cool to touch. There are removable caster wheels to ensure that portability can be achieved with ease, its low weight of around 21lbs makes it pretty easy to carry for easy installation.
Accessibility:
The digital interface includes easy push buttons of which have clear images as to their function. There are 6 quartz elements within this heater powering it to the absolute maximum. There's a digital thermometer that displays the temperature clearly at a glance.
Features:
This infrared heater is rife with features including a child lock, and overheat protection software as well as a cleanable air filter. The air filter actively cleans air whilst heating it to ensure utmost air quality; making this heater practically a 2-in-1. There are three heat settings, high, low and eco heat – allowing you to customize what suits you best.
Quality and Convenience:
The eco heat mode works fantastically to maintain a steady temperature of 68F whilst using a tiny amount of wattage; helping you save money. A remote control is also included to ensure utmost convenience. The heater is noted as designed with children and pets in mind, hence all the above-mentioned safety features.
Other factors:
To its downfall, there is no listed warranty information but Amazon does suggest that the manufacturer might be able to supply some kind of warranty upon contact. There are only 138 customer reviews, yet they're consistently positive with an overall 4 star rating on Amazon.
Pros:
Anti-tip technology
Overheat shut-off protection
Child lock
Portable
Eco mode
Verdict:
Overall this product is fantastic; the fact its developed with family use in mind means a whole host of safety features that really allow for peace of mind. It's easy to use with a basic digital interface and a remote. The lack of warranty information does let it down slightly, as does its current limited popularity with it only having just under 150 reviews. We really do think this product is both reliable and efficient, hence placing it on our list, we hope that in the future it'll sell a little better so its value can be better judged.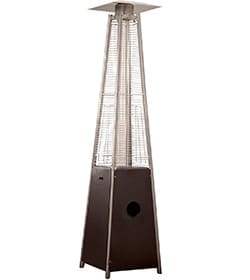 AZ PATIO HEATER REVIEW
Perfect patio heating
AZ PATIO HEATER REVIEW
This heater is different from the rest as it is for outdoor use, so looks very different to our other picks. It is great for outdoors thoughts it is easy to use and has wheels for easy movability.
Design:
This infrared heater sets itself apart from the rest of our list for the fact it's meant for outdoor use, namely patio heating. With this purpose in mind, its dimensions and structure is entirely different from the wooden cubes we're used to on this list. With a stylish hammered bronze finish, it weighs around 65lbs and is very tall, reaching 87" high. You don't have to lift weights to be able to install this machine though! It does come with preinstalled wheels for easy transport and we even once used it to heat our garage, which was a pleasing experience.
The heater makes full use of its space, with its height in particular being down to the 87" quartz tube of which supplies the power source, in conjunction with a propane tank.
Accessibility:
The heater itself is able to last a full 8-10 hours before the propane needs refilling if used on its highest heat setting, making it ideal for evenings outdoors in all seasons. The heater is operated via a dial you can access by pulling down the front of the heater, where the on and off switch is also located. The dial allows you to alternate between a range of temperatures (it's sort of like a gas cooker knob, just for reference). Parts are easy to buy with the brand AZ Patio stocking online and even in some American home stores.
Features:
The heat can be adjusted via a dial and therefore there is a range of temperatures available at your convenience. There's no electronic thermostat, although the quartz does light up beautifully, making the heater a stylish and practical patio feature.
Quality and Convenience:
This heater doesn't have an eco setting as most patio heaters do require a substantial amount of energy. This one is of course an exception to that rule thanks to the miracle of infrared technology. The wheels at the bottom of this patio heater make it all the more convenient and efficient, saving you the effort of having to carry this huge appliance.
Other factors:
The company AZ Patio offer a fully comprehensive one year warranty against any faulty products, immediately shipping replacement parts. The product has just under 400 customer reviews with a stable 4 stars showing just how reliable this heater really is.
Pros:
Year long warranty
Wheels at the bottom
Easy to use dial
Heater doubles as a light feature
Cons:
No electronic thermostat
No eco mode
Verdict:
This is definitely one of the best infrared quartz heaters for your backyard, its stylish, modern and beautifully made with the hammered bronze casing. It's entirely fire safe as well as reliable with the quartz core making a beautiful light feature. Outside of looks, this infrared heater is also very efficient, with its easy to use dial allowing you to customize the temperature to best suit you. If you're looking for ways to avoid carrying heavy amps and generators outdoors just so you can keep cozy, investing in this heater will ensure that your backyard, or any outdoor zone not only looks amazing, but is lit and toasty too.
A List of Other Products We Tested
Glossary:
Quartz Tube – A quartz tube is the main component of an infrared heater, upon it experiencing a rapid heat build-up, the quartz tube will emit heat at a wavelength perfectly suited for the human body.
Radiant Heater – A radiant heater is a synonymous term to infrared heater, the term may be used to describe heaters in general though so do be wary if an infrared heater is exactly what you're looking for.
PTC – Specialist ceramic made heating discs that allow for efficient heat transfer.
Eco mode – A mode most infrared heaters has that uses a low wattage to emit a large amount of heat.
Additional Information on the Best Infrared Heater
Buying an infrared heater is an investment. With it being a one-time purchase for many it's really worth carefully considering what your budget allows for and whether to splash out or not. You don't have to spend an awful lot to get what you need though. Some important features that we really think make for the best infrared heater are briefly outlined here.
Thermostats that turn off infrared heaters after reaching a certain temperature aren't only money-saving, they're safe. They ensure that malfunction due to heating is inhibited, limiting the potential of any explosions or melting. If yours don't have that, consider setting up a thermostat on the wall yourself to keep your room temperature in check.
Always go for a piece of equipment with a good warranty; the last thing you want is to end up with a broken product with irreplaceable parts.
Infrared heaters can often fulfill multiple purposes, look to invest in a machine that doesn't just heat, but maybe filters air and humidifies too.
For more ideal characteristics why not peruse our detailed report where you can see exactly what we scrutinized against.
Maintenance and Safety
Infrared heaters are pretty low maintenance for the fact that they don't create a mess. Remember, that we kind of do – dust, mold and debris will build up regardless of how immaculate your home is. To keep your infrared heater in top condition you will have to clean it periodically.
Some cleaning areas to focus on include the air filter, the reflector, the cabinet of the machine and the observation window if there is one. Keep an eye out for any cracks or tears in wires or electronic components. Contact the manufacturer for replacement parts if necessary.
Never install an infrared heater close to flammable liquids, vapors or at high traffic sites where children are likely to interact with it.
If your heater does not have a thermostat, do be sure to turn it off straight after use. This will not only save electricity but prevent any unwanted accidents.
Never allow children to play with the heater, least of all poke their fingers through any crevices in the machine.
Read the user manual thoroughly for specific, comprehensive advice regarding your individual infrared room heater.
Wrapping it Up
Infrared heaters can be a tricky thing to buy; not only are they so popular that telling the good from the bad is hard, they also have a range of names they go by, despite all really employing the same technology.
Infrared heaters are wonderfully safe compared to other heater types of which have the potential to leak their fuel sources and through this, contaminate or even kill. By operating largely with quartz, infrared room heaters can cleanly convert electricity into waves of heat that suit the human body exceptionally well.
The efficiency with which infrared room heaters are able to do this is very impressive, converting 100% of their electrical source into heat energy. This means that even with a very low wattage, say just the amount it would take to power a hairdryer. For example, you could heat a space ranging up to around 1800sqft.
We've outlined a range of infrared room heaters here and even thrown in a heater dubbed 'radiant' despite not actually being infrared just for context and comparison. Altogether it's clear to see the overwhelming positive aspects of infrared technology, from its efficiency, costliness, and effectiveness.
We hope that our guide here has provided you with a good reference of knowledge with which to base your future home heating decisions on, if not entirely coaxed you towards purchasing at least one of our top 10 from our infrared quartz heater reviews. Don't forget that should you feel at all skeptical, or even curious, you're entirely welcome to peruse our detailed research report for any extra information you may be looking for.