Save Up on Energy – Set Up Your Own Thermostat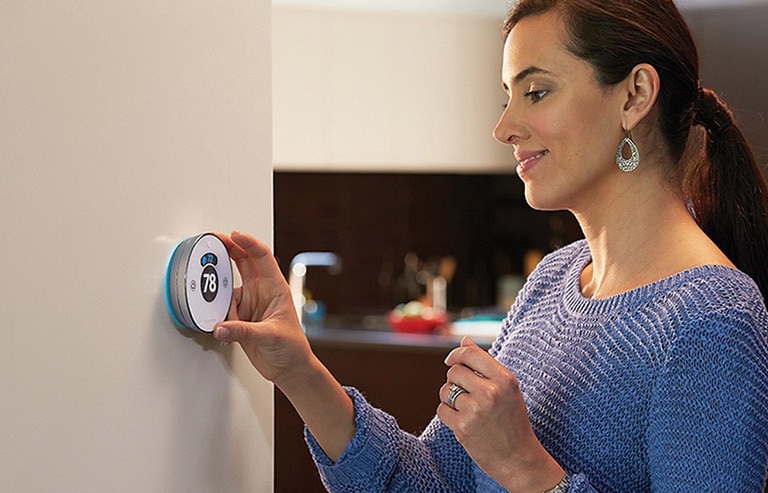 Thermostats help you maintain a comfortable temperature that you desire in your home in all seasons. However, not many people know how to wire a thermostat for their heating or cooling systems. Before getting thermostats, it is better to know what type of HVAC system is available in your home. Does it have a furnace and an air conditioning unit or a heat pump system? Thermostat settings are a bit different for each system. You can ask an HVAC professional to help you set it up. But if you want to do it on your own you could save so many bucks! Before buying such an important equipment, you should know how it works and how to set it up.
How to Wire a Thermostat
If you have woken up in the middle of the night feeling too cold or too hot and realized that you got yourself a thermostat not functioning anymore, that is a huge problem. In case of such emergency situations, it is best to know and understand the wirings behind a thermostat. You will see four or five different colored wires all attached to terminals labeled in letters. The number of wires depends on the kind of home heating or cooling system you have. If you have a central furnace and AC unit, you could have five wires instead of four. The five wires are of five different colors- white, green, yellow, red and blue. Here is what each color and terminal represent:
Green wire is usually seen attached to terminal G
White wire is associated with terminal W
Yellow wire is attached to terminal Y
Red wire is connected to terminal R
Blue wire is connected to terminal C. C is referred to as 'common.' So the blue wire is a part of the required furnace thermostat wiring. It is also seen in most heat pump thermostat options.
Most newer versions of thermostats have this conformation. But when a thermostat is not working, it would be better if you knew how to wire a thermostat into the correct conformations. Tying the yellow, green and red wires together can cause the compressor, blower, and transformer to activate, which ultimately activates the heat pump system. With the heat pump system activated, you can get your room heaters, radiators, and baths warmed up.
Red, white and green wires combined can turn on the emergency heat. So if you are down with a thermostat on a freezing night, you know what to do.
On the other hand, red, green and yellow wires combined can turn on cooling systems, such as air conditioners, fans, and coolers.
How to Set Thermostats
Thermostats can be programmable or non-programmable, but there are three basic settings – the fan option, the heating option, and the cooling option. Some advanced thermostats may come with humidifying and dehumidifying options as well. If your thermostat is not programmable according to your daily schedule then you have to change the options directly.
For the 'fan' option you can click on 'auto' or 'on'. With the 'on' option the fan will turn on but the room won't heat up or cool down. The 'auto' option turns on with the heater or air conditioner, to circulate warm or cool air respectively.
The screen displays the ambient home temperature. If you want cool air in your home, you have to click on the up and down arrows to decide the temperature you want to cool down your home to. Once the set temperature is reached, the thermostat will turn off automatically, or at the end of the cooling cycle you chose.
The same option is available for heating as well. You can use those arrows to increase temperatures. Some thermostats come with emergency heat options, allowing users to feel warmth in case the larger heating system breaks down or freezes.
Make notes of your daily activity and the times you come home and leave for a period of one week. Then set the day and time to turn on heaters and air conditioners on your thermostat accordingly. This can only be done on programmable thermostats. Choose the cycles you want according to your time at home. Advanced programmable thermostats can allow you to set different times for weekdays and weekends.
Types of Thermostats
Thinking of what kind of thermostat you should get yourself? It actually depends on your needs. Some people find it easier to use non-programmable thermostats, simply because the displays are easier and settings can be done manually. Most people prefer the programmable ones which adjust temperatures automatically according to the time and day you set.
The advanced versions of thermostats are now wireless. By wireless I don't mean they don't contain wire inside, it just means their communications with heaters and air conditioners are wireless. Remote sensor thermostats are also available nowadays.
Thermostats that are compatible with your portable electronic devices, such as phones and laptops are also found on the market. With the use of various phone apps, you can connect to your thermostat and change temperature settings from anywhere! These are called learning thermostats.
The most high-end thermostats allow communications between air conditioners, furnaces, and heaters! You can definitely choose one of these!
Thermostat Setting for Summer and Winter
The job of a thermostat is to provide you with a comfortable temperature. Keep the temperature as high as possible during the summer, but at the same time not too uncomfortable. You can reduce your electricity bill by keeping the temperature difference as low as possible. When you are away from home, set the temperature higher but when you come back, then you can lower the temperature to cool yourself down. Programmable thermostats are easier to change settings. Don't set your thermostat to colder settings than what you normally use when you turn the air conditioner on. The house will not cool faster than normal and you would have to pay extra bucks unnecessarily.
During winter time the recommended temperature setting is 72 degrees F when you are at home. And when no one is at home, the recommended temperature setting is between 66 and 68 degrees F.
I think by now you have understood how small but genius small devices like thermostats can help reduce your energy bills and make your life way easier. Not just easier, thermostats make you feel more comfortable in your own home by providing you your desired temperatures whenever you want. In case its function goes wrong, you can always unscrew the top part away and have a look at the color coded wires. If you see that the wires are in no way fixable, you can call an HVAC professional to help sort that out for you. You might have to replace your thermostat in some cases, especially if it gets too old. There are various kinds of thermostats available on the market. You should pick one that fits your needs and matches according to the system in your home. Although thermostats are not as pricey, the more advanced ones with more unique options do come in exchange for more bucks. The choice is yours. You could stick to the traditional and easy-to-use thermostats or you can move on to the new ones.
Categorised in: Equipment, Techniques and skills