How to Keep Your Garage Comfortable Heated in Winter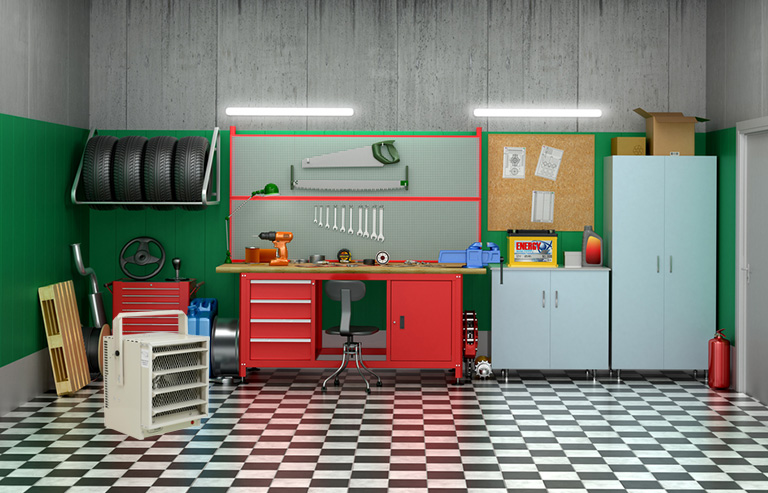 Very few of us actually use our garage for car parking only. We Americans love spending our time in the garage and besides car parking, we use it as a workshop, storage room or even as an entertainment/computer room. But winter is a hard time for garage dwellers because the shivering cold makes it almost impossible to stay there comfortably. Considering that, The Soothing Air team decided to show you the best way to heat a garage in winter so you never have to pass dull time inside your house again this winter.
Installing An Effective Insulation System in Your Garage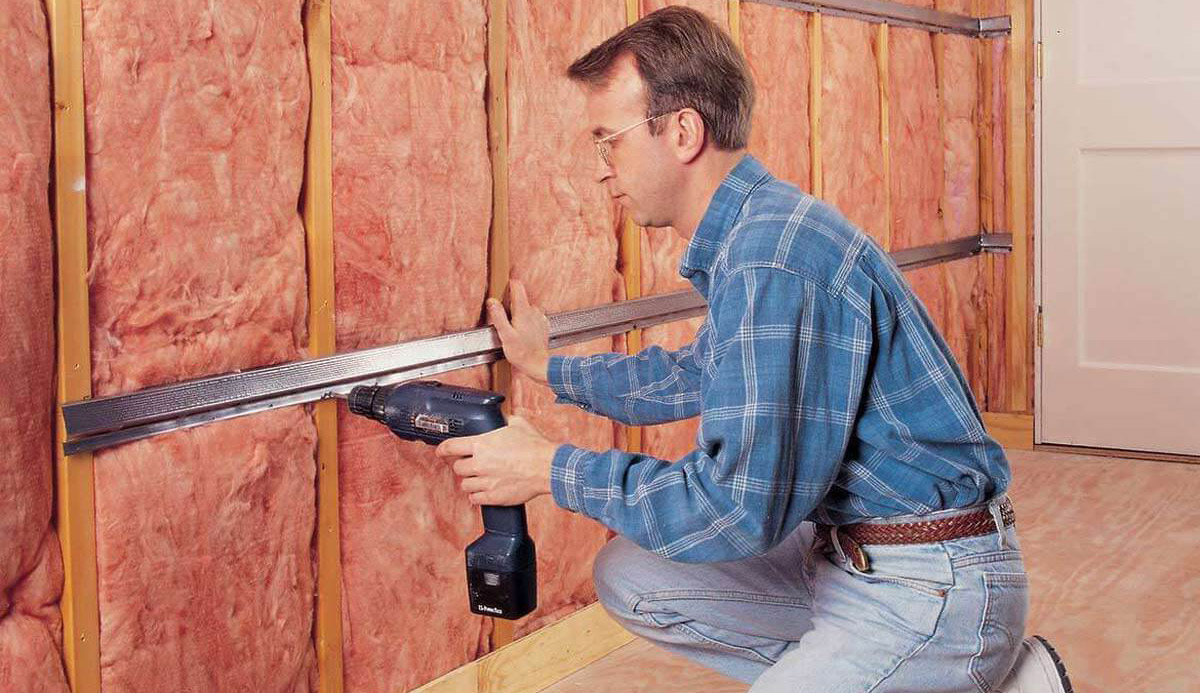 An effective insulation system is the first measure to ensure proper heating in your garage. If your room or garage doesn't have the right insulation system in the first place, no heating solutions will be of great help. A well-insulated room would be enough to keep yourself warm in mild winter. Installing a proper insulation system doesn't cost much and this is a one-time cost. The insulation cost would vary depending on the room size, wall material, window, and door size. Here is a guideline for installing an effective insulation system in your garage:
Insulate any open space below or above the door or any open area any open area that warm air can flee through.
Check the building material used in the walls and floor of your garage. Some materials like stone walls, concrete floors are hard to keep warm and it takes a lot of heat energy to keep them warm.
Use effective but cheap insulation materials to get the best insulation with minimal cost. Mineral wools, fiberglass, cellulose are the cheapest options available on the market for insulation. They also provide the safest way to insulate your garage.
Insulate the walls and floors of your garage with these above-mentioned materials.
Proper insulation can save you a lot of money and energy. If you live in regions that don't have severe temperature drops in winters, an insulation system would be enough to keep your garage warm without requiring to invest in humidifiers or heaters. However, you will still need warm clothes.
Available Heating Options for Your Garage
Forced Air Heaters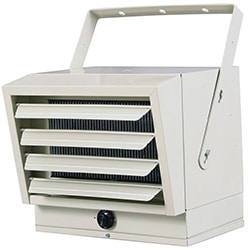 Forced air heaters are one of the cheapest heating solutions that run on natural gas. It generates heat through gas combustion and transfers heat to your garage through constant air circulation. Forced air heaters are not as costly as infrared heaters. They can be placed into one corner of the garage for optimal heating for the whole garage. The downside of these types of heaters is that they make a lot of noises because of their gas combustion and fan circulation. Forced air heaters are only effective in closed spaces. Moreover, they tend to kick dust around by their fans which can be an issue if you are doing any sensitive work like painting or water art.
Infrared Heaters
Infrared heaters are technologically advanced heaters which can heat objects directly even if it is in an open space. If your garage is open and impossible to properly insulate then infrared heaters are the best heating solution for you. The downside of infrared heaters is that they are costly in comparison to the other kind of heaters. But infrared heaters are the most efficient heating solution available on the market. If you want to know more about how infrared heaters work or the safety and efficiency of infrared heaters, you can read our blog on this topic. Depending on your heat distribution requirements, you can choose any of these following infrared heating options.
1. Mounted Infrared Heater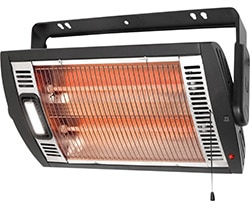 Mounted infrared heaters are efficient than any other kind of space heaters available on the market. They are portable in size and can be placed anywhere in your garage. Mounted infrared heaters are energy efficient and powerful enough to cover all corners of your garage. But the heat distribution of a mounted infrared heater is not even. The objects that are directly exposed to its infrared light will be heated swiftly than the objects that are not directly exposed. The image above is an example of a 110v electric garage heater.
2. Floor Infrared Heater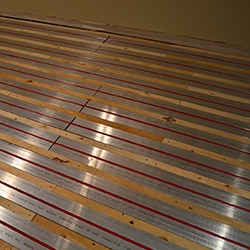 Infrared heaters heat objects directly. But the problem with that is anything not exposed directly to infrared light emitted by the heater would not be heated well. That's why normal mounted infrared heaters are ineffective for even distribution of heat all over the floor. If you want even heat distribution all over the floor of your garage, then floor infrared heater is the perfect machine for your garage.
3. Infrared Ceiling Panel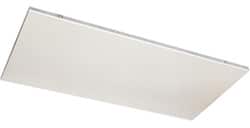 The infrared ceiling panel is an alternative solution for your garage which can distribute heat evenly all over the area. They are swift in warming your garage even if they are not insulated properly. Moreover, they can enhance the beauty of your garage to a great extent.
Oil Filled Heaters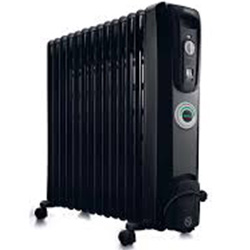 If your garage is properly insulated, then oil heaters can be the best way to heat a garage in winter. Oil heaters consume very less energy and their price is less than infrared heaters. Because of the diathermic oil used inside, oil heaters can provide heat for a good amount of time even after they are switched off. Another positive aspect of oil heaters is that they don't make any noise. But the only downside to oil heaters is that it takes time a bit longer time to heat up your garage. If your garage is well insulated, then an oil heater can give you optimal heating with minimal energy consumption.
Electric Coil Heaters
Although there are many types of heaters which generate heat through electricity, electric heaters are generally referred to electric coil fan heaters. Their upfront cost is lower than any other kinds of electric heaters. However, they are not as energy efficient as other heaters. The other downside of electric coil heaters is they are unsafe to use. Moreover, their coils don't last long since the coil inside often gets burned.
Natural Gas Heaters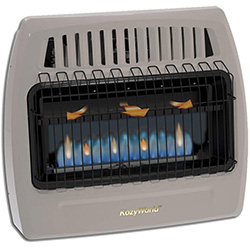 Natural gas heaters are another great option worth considering. They can provide comfortable heat throughout the winter with the minimal operating cost. Natural gas heaters work based on the gas combustion process. They require constant gas supply which can be provided through a dedicated gas line or a gas tank. Natural gas heaters need a ventilation system as they produce many monoxide gases. However, it is not the best way to heat a detached garage.
Wood Burning Stoves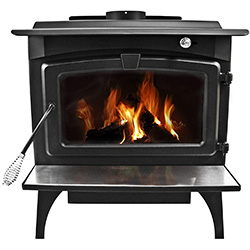 Wood burning stoves are the cheapest way to heat a garage. They don't require any electricity to generate heat. If your garage is properly insulated, a wood burning stove can provide you a comfortable heating solution for a long time with minimal cost. The main problem with the wood burning stove is that in most places a wood burning stove in residence can make your insurance contract void or raise your insurance premium. You might need a special building permit or fire inspectors certification before installing one in your garage.
Picking the Right Heater for Your Garage
Before investing in any heating system, you must choose the right kind of heating system for your garage. Depending on the space and design of your garage you might need any specific kind of garage heater. For example, if your garage has two or more entry points and remains open for a longer period of time, then convection heaters or forced air heaters would be ineffective for you. Furthermore, even if you pick the right kind of heater, you also have to choose the correct garage heater size for your garage. Garage heater sizing depends on the space of your garage and the type of heater you are using.
Based on different parameters, a comparison table of different kinds of heater is provided below:
Heater's Type
Purchasing Cost
Energy Efficiency
Even Heat Distribution
Noise
Safety
Insulation Requirement

1

Fan Forced Heater

Low

Medium

No

Very

Noisy

Medium

Mandatory

2

Mounted Infrared Heater

High

High

No

Quiet

High

Not Mandatory

3

Floor Infrared Heater

High

High

Yes

Quiet

High

Not Mandatory

4

Infrared Ceiling Panel

High

High

Yes

Quiet

High

Not Mandatory

5

Oil Filled Heaters

Medium

High

No

Quiet

High

Mandatory

6

Electric Coil Heaters

Low

Low

No

Noisy

Low

Mandatory

7

Natural Gas Heater

Medium

Medium

No

Very

Noisy

Low

Mandatory
You must have a prioritized preference list to choose the best heating solution for your garage. However, having a proper insulation system will work as a complementary measure to any heating solution in your garage.
It is very hard to determine a uniform heating solution for all garage. The cheapest way to heat a garage might not be the most effective solution in all cases. The best way to heat a garage depends on the severity of cold, garage space, design and available fuel in the region. For some regions, a combination of proper insulation system and a homemade garage heater or a garage furnace might be the answer to the question of how to heat a garage cheaply.
Categorised in: Heaters