Keystone Dehumidifier KSTAD70B Review, 70 Pint
Product Name:
Keystone Energy Star 70 Pt. Dehumidifier, KSTAD70B
Brand:
Keystone
Features:
1. Easy-To-Read Water Level Indicator 2. Full-bucket alert with automatic shut-off feature
Pros:
1. Efficient unit 2. Not a noisy unit
Cons:
1. Low quality LED display
Rating:
Buy from Amazon.com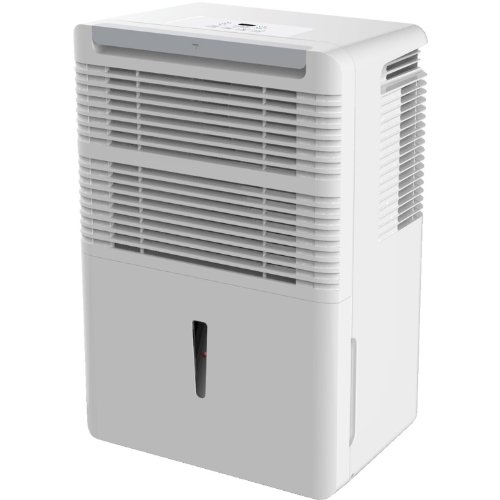 Keystone Dehumidifier KSTAD70B Review
When you are looking for low cost alternatives to the expensive dehumidifiers, you will find the Keystone KSTAD70B as a wonderful alternative. If you think you would be compromising with the functionality and the features for a low price, then you are mistaken. The Keystone 70 pint dehumidifier is loaded with almost all the features that you would in any other dehumidifiers offered in the marketplace. This small dehumidifier is capable of removing 70 pints of moisture per day from the air. It offers lucrative features and a continuous draining option. It comes with a 24 hour timer and a dust filter that is easy to clean and remove. The KSTAD70B unit can be easily moved to any location owing to the rolling casters. In addition, the keystone dehumidifier KSTAD70B comes with a labor warranty, a year warranty on parts and a five year warranty on the sealed system. This Keystone Dehumidifier KSTAD70B review offers you an insight into this dehumidifier and concludes whether this is worth your money or not
Hardware and Design
This Keystone dehumidifier removes 70 pints of moisture from a room of up to 4500 square feet per day. The unit comes with a 24 hour timer, LED display with electronic controls, a full bucket alert with automatic shutoff and a transparent water level indicator. It also comes with a clean-filter alert and a removable, easy-cleaning dust filter. The settings are saved in case of a power outage in this small dehumidifier owing to the auto-restart feature. There are three modes of settings: Auto-Defrost, Turbo and Normal. The unit consists of a water tank that comes with a water level indicator that is transparent. An automatic shut off system is offered with full bucket alert. A continuous draining option is offered with this dehumidifier with a standard garden hose. Easy movement of the unit is offered by the four rolling casters that are durable.
Includes/Accessories:
Dehumidifier
Gravity drainage adapter
Set of 2 screws to install adapter
3 gallon water tank
Full bucket alert system
Dust filter
4 rolling caster for easy movement
Key Features
Easy-To-Read Water Level Indicator
Full-bucket alert with automatic shut-off feature
Continuous draining option
Easy-To-Clean Filter
Removable, easy-cleaning dust filter
Electronic Controls with LED Display
24-hour timer.
Drainage System
While going through this Keystone Dehumidifier KSTAD70B review, you will find that the weakest feature of this dehumidifier is the drainage system. If you look at other dehumidifier reviews, you will find that this model consists of a hose for gravity drainage or comes with an attachment to link to the standard garden hose.  This dehumidifier requires you to plug in an adapter in order to make use of the gravity drainage option. You need to utilize the screw driver and the set of screws for the purpose. This proves out to be a major negative point while using this dehumidifier. This is because you can easily misplace the screws and having to install the adapter seems more or less like a flaw in the design.
Pros

Offers best value in the class of 70 pint size dehumidifiers
Reliable because of high percentage of positive consumer feedback
Efficient unit
Not a noisy unit
Moisture removal rate is above average
Inclusion of defrost mode at a low price
Portable and lightest in the size class
Cons

Low quality LED display
Installation of a separate adapter for utilizing the gravity drainage system
Timer label in between the arrow buttons for setting humidity level which is quite confusing
Errors in operating manual. The spellings seem more like riddles.
Small water tank hinting you will have to empty the tank quite frequently

Ease of Use
Ease of use is something that you would be glad to read in this Keystone Dehumidifier KSTAD70B review. This Keystone dehumidifier comes with a basic and small LED display. It is quite simple and easy to use with no hassles involved. Entering the settings into this unit is simple and easy. The unit features a slid-out filter which aids in easy cleaning and removal. This is a positive point although you would not be cleaning the filter often. Emptying the tank on a frequent basis can be an issue because of the small tank size. However, this problem would not persist if you make use of the gravity drainage feature. Overall, the system is easy to use and less expensive.
Energy Efficiency
The Keystone humidifier is one of the best dehumidifier for basement. It is most energy efficient if we look into the class of 70 pint dehumidifiers. Although, the unit comes with a rating of 720 watts, it draws only 590 watts. Only in cases of severe humidity problem, the unit will operate at a high power. If you use this model for mild dehumidification tasks, then this unit can prove out to be a wonderful option in terms of energy efficiency. You can look at other dehumidifier ratings when it comes to energy efficiency, you will be surprised to know that this model stands out from the rest.
When we look at other dehumidifiers for sale, the Keystone dehumidifier comes with a one year warranty on the unit. Two to five year warranty is offered on the sealed system that includes the condenser and the compressor. Keystone is a Chinese product. The warranty is yet to be respected as the model has been in the market for only a couple of years.
My Verdict
This Keystone review puts the doubts regarding the durability of the unit to rest. This model is one of the most recommended products when it comes to the class of 70 pint dehumidifier models. This Keystone Dehumidifier KSTAD70B review not just covers the strength of the product but also the weaknesses. The build quality and the drainage features are quite critical in this dehumidifier model. This unit actually falls into the recommended units in the category of 70 pint size dehumidifiers. Each dehumidifier in the market comes with its own weaknesses and faults. This does not imply that it is not worth purchasing. The strengths of this model outweigh the negatives.
Final thoughts
This Keystone dehumidifier offers a lot more for the price that you pay for it. This model does really come with a list of convenience or features that are acceptable which includes the settings capabilities and the automatic alert system. This does not impress much in the feature category, performance category and noise control category. This Keystone Dehumidifier KSTAD70B review in no manner implies that this dehumidifier is a poor choice. It can be rated fair in the above mentioned categories because of the value being offered at a price that is affordable. This is however a short term option and cannot be considered to last for several years without posing hassles.
Frequently Asked Questions
Q: Does the fan run all the time or shuts down after the compressor stops?
A: With the compressor, the fan turns off. This dries the air in a quick manner whenever required. This is quiet in comparison to the previous models.
Q: Does this unit come with an option for a hose hook up?
A: Yes. A kit is offered with the system to install the hose into the unit in a direct manner.
Q: The system has started blowing warm air while operating. Is it normal?
A: Heat is naturally produced while dehumidifiers are running. Heat is liberated by the moisture when there is a change in the state of moisture to gas and finally into liquid form.  This heat is absorbed by the dehumidifier and released back.
Q: How should I set the level of humidity? When I operate the model in the continuous model, will the bucket fill and shut off?
A: The machine shuts off automatically when the bucket fills. This happens until the water is drained and there is a drop in the float level. Turn off the continuous mode to set the level of humidity. Then press the up or down arrows until the LED reads out the humidity level desired.
Buy from Amazon.com