Keystone KSTAD50B Energy Star review, 50-Pint Dehumidifier
Product Name:
Keystone KSTAD50B Energy Star Dehumidifier, 50-Pint
Brand:
Keystone
Features:
1. Easy-To-Read Water Level Indicator 2. 2014 Energy Star qualified
Pros:
1. Offers best value in the class of 50 pint size dehumidifiers 2. Highly energy efficient
Cons:
1. Small water tank
Rating:
Buy from Amazon.com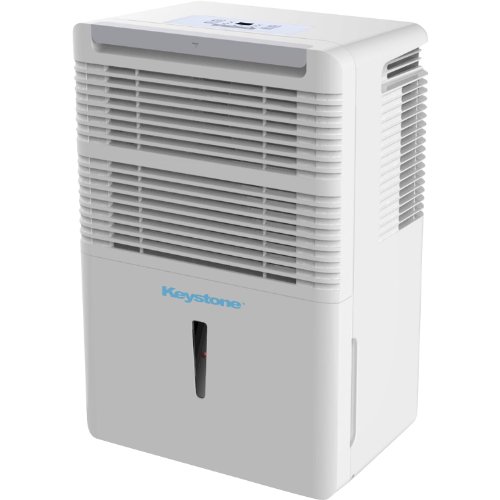 If you are battling high humidity levels and looking for the best dehumidifier for basement that does not cost you much but offers you the functionality, then you must consider Keystone KSTAD50B Energy Star 50 Pint Dehumidifier. This unit is capable of removing moisture from a 3000-square feet room. It comes with all modern features including a 24 hour-timer, full bucket alert and electronic controls. This dehumidifier offers continuous draining option with the aid of a garden hose. It also comes with an easy clean and removable dust filter. Your settings get saved during a power outage on this dehumidifier. Keystone KSTAD50B dehumidifier can easily be moved to another location with the aid of rolling casters. Being ENERGY STAR qualified implies that the product meets the stringent guidelines laid down by the U.S. Department of Energy and the U.S. Environmental Protection Agency. Read this Keystone KSTAD50B Energy Star review to know more about this unit.
Hardware and Design
Keystone KSTAD50B dehumidifier offers all the functionality and the features offered by the 70 pint Keystone dehumidifier. It comes with two fans and functions in a continuous mode. The humidity range is set to 35% to 85% in this small dehumidifier. This device features a system that alerts when the bucket is full. A transparent water level indicator makes it easy to read the water level. The setup is easy to remove and to maintain. Air filter can be accessed easily, cleaned and reinstalled. The device features LED display electronic controls. It also comes with a 24 hour timer. Easy readings are offered by the digital humidity display. The settings can be adjusted with a touch and its Defrosting feature ensures that there is no ice buildup in the system. During power outage, the settings get restored. The unit has a large dehumidification capacity. 50 pints of moisture can be removed from a room with a dimension  of 3,000 square feet.
Includes/Accessories:
Dehumidifier
Gravity drainage adapter and screws
Key Features of Keystone KSTAD50B dehumidifier
Easy-To-Read Water Level Indicator
2014 Energy Star qualified
Removes 50 pint of moisture in a room of 3000 square feet
Auto Defrost, Turbo and Normal settings
Easy cleaning and removable dust filter
Continuous draining option
Auto-restart saves the settings in case of a power outage
Full bucket alert
Automatic shut-off
4 rolling casters for easy movement
Ease of Use
You will be convinced after reading this Keystone KSTAD50B Energy Star review that this dehumidifier has a lot to offer to the users in terms of convenience. A transparent water level indicator is featured in the water tank. The system features an auto shut-off as well as a continuous draining feature. A variety of draining options are offered with this Keystone dehumidifier. You can read dehumidifier reviews over the web; you would not find many dehumidifier units offering multiple draining options. The easy cleaning and removable dust filter offers a clean air alert. This eliminates the need for you to bother about the quality of the air that you are breathing. The electronic controls that come with LED display feature a 24-hour timer and operate in three modes: Turbo, Auto-Defrost and Normal.
Drainage System
The weakest feature of Keystone KSTAD50B dehumidifier is the drainage system, although multiple draining options are available. If you look at other dehumidifiers for sale, you will find that this model has a hose for gravity drainage or comes with an attachment to link to the standard garden hose. You need to plug in the adapter in order to utilize the feature of gravity drainage option. You will have to make use of the set of screws and the screw driver and this is where the device slightly proves out to be complicated in terms of usage.
Pros

Offers best value in the class of 50 pint size dehumidifiers
Highly energy efficient
Low temperature operation is permitted as it comes with defrost mode
Portability because it is light
Cons
Small water tank
Gravity drainage requires using adapter and screws offered with the set

Energy Efficiency
When it comes to energy efficient dehumidifiers in the 50 pint range, Keystone KSTAD50B dehumidifier turns out to be an amazing option. For 50% relative humidity, this unit draws 439 watts. For high levels of humidity, this unit draws power that is close to the manufacturer specification. 28% less power is drawn by this dehumidifier in comparison to the 70 pint dehumidifier offered by Keystone. However, this unit consumes more time when it comes to dehumidifying the space from relative humidity range 90% to 40%. Although the dehumidifier ratings signifies that it consumes less power, it has to operate for a long time when it comes to dehumidification of the space when high humid level to low levels. The power advantage gets offset because of this slow removal rate of moisture.
When we look at other dehumidifiers, a one year warranty is offered on this Keystone dehumidifier unit. On the compressor and the condenser which forms the sealed unit, five year warranty offered by the manufacturer. Extended warranty can be purchased by the users. The brand is relatively new and the product is Chinese. You need to respect the fact that the company has managed to acquire trust from the customers. If you look at Keystone KSTAD50B Energy Star reviews online, you will figure out that this unit has a lot to offer to the customer in terms of satisfaction and ease of use.
My Verdict
Keystone KSTAD50B dehumidifier offers the same functionality and features that is offered by the 70 pint unit. If you compare various models in the same capacity range as this dehumidifier, you will find that this unit has a lot to offer despite being inexpensive. The Defrost mode is a plus for people residing in colder regions. The efficiency of a dehumidifier drops if it is utilized in colder regions without any sort of Defrost feature. The things that disappoint about this dehumidifier are the small water tank capacity and the gravity drainage system. Both seem tedious.  However, if the features offered at the price are considered, Keystone KSTAD50B dehumidifier is undoubtedly of the best quality.
Final thoughts
This Keystone dehumidifier may not be the best dehumidifier available in the market today, but it is quite good in the range of 50 pint dehumidifiers in terms of the features and the performance. This dehumidifier is quite less expensive and also reliable. If you are looking for dehumidifiers at comparatively low cost, then it is recommended to purchase the Keystone KSTAD50B dehumidifier.
FAQs
Q: What is auto defrost feature?
A: When there is a build-up of frost on the coils of evaporator, there are chances of the system failing and the efficiency coming down. This will happen until the frost disappears. A defrost feature shuts the compressor so that the frost can melt away quickly without affecting the unit.
Q: Will the unit turn on its own in case of a power failure or it has to be done manually?
A: You don't have to worry about anything as there is an auto-start feature that will take care of the previously stored settings when the power supply resumes.
Q: Does this unit come with a hose hook up for drainage?
A: This dehumidifier does not come with a hose draining hookup.
Q: Is humidity level displayed by this dehumidifier?
A: Yes. The LED electronic controls help you to track the humidity levels.
Buy from Amazon.com