How Can a Dehumidifier Improve Your Home Environment and Health?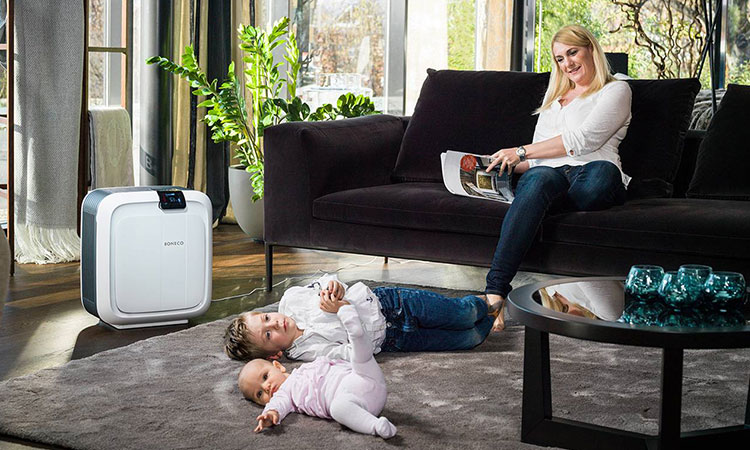 Dehumidifier for home may be referred to as electronic devices designed to extract the additional amounts of moisture present in a room.
How does it work?
Dehumidifiers for home control the amounts of humidity present in the atmosphere of a room. They suck the humid air using a fan which is then entered to the section containing cool coils. Condensation occurs in this phase and moisture gets converted into water droplets. These droplets start dripping down and enter a water storage section. Air free of moisture is than pushed back through the fan of the dehumidifier.
Dehumidifiers come with a sensor which makes sure that the water reservoir does not overflow. When a certain capacity level is reached, it turns the dehumidifier off so that the water may be removed first. In order to avoid this step, you may also get a dehumidifier with a drain hose that drains away the water at runtime.
Different types of dehumidifiers?
Different types of dehumidifiers are available in the market. Not every one of them may be the right choice for your house. Therefore, it is important to be completely aware of your requirements before you actually buy a dehumidifier. You may choose from two basic options that are a whole house and a portable dehumidifier. Portable dehumidifiers are very smart and elegant. They can be easily moved to the room you want to dehumidify and are designed to work in smaller rooms like kitchens and bedrooms.
In case you are interested in controlling the moisture issue for your whole house, you need to buy a larger unit. Such units require to be installed by professionals and cost more money but the provided performance is pretty high end. They have the ability to cover a larger area and operate at a faster speed.
In addition to the above mentioned choices, there is another type of dehumidifiers known as a restoration dehumidifier. They are much heavier and are designed to operate in spaces larger than a house.

Is it expensive?
Dehumidifiers for home may cost you a good deal of money as they consume a lot of electricity. The power consumption also varies on the basis of the size and the capacity of the unit. But you have to consider the advantages they offer and make a comparison with the cost you need to pay in order to keep going with it. You will see that the advantages will overweigh the cons. The use of dehumidifiers allow you room to maintain a higher temperature which means that you require lesser amounts of air conditioning. This will bring about a cut on the air conditioning costs, compensating the electricity costs of the dehumidifier. In addition to this, you will be able to breathe in a much fresher air with added amounts of comfort and ease. You can also recycle the water obtained from the dehumidifier and use it for your flowers and plants. You need to know that it is important to balance out the equation of costs involved in buying and running a dehumidifier. Otherwise you might end up paying a good deal of money on account of electricity bills.
What are the benefits?
The most notable advantages of using a dehumidifier for home are discussed below.
There is a number of health benefits affiliated with the use of a dehumidifier.
High levels of humidity appeal fungus and mold. Dehumidifiers can free you from such kind of inconveniences.
Dehumidifiers can free you from condensed windows and the feeling of stuffiness in the atmosphere
They can allow you to prevent any health issues that might occur as a result of mold
Dehumidifiers may be of exceptional value in protecting the stuff placed in a storage space.
They can help you limit any allergy issues
Disadvantages or problems?
The only notable disadvantage you might experience from the use of a dehumidifier is the extra cost you will have to pay on account of electricity bills. Therefore, it is highly important to balance the advantages you are getting against the additional amounts of money you will be paying. The best thing to do in this regard is to make a list of the pros and cons. That way you can make a comparison between the advantages and the costs and choose what seems to be the best option.
Finally
Dehumidifiers for home may prove to be a fine addition to your house if you have a room with a damped and humid atmosphere. They have the ability to suck the additional amounts of moisture from the room and throw clean and dry air out. Buying a dehumidifier can free you from a number of issues including mold, fungus, allergies and a number of other health issues that may occur as a result of humid atmosphere.
Categorised in: Dehumidifier, Health Benefits