A Step-by-Step Guide on How to Drain a Dehumidifier Automatically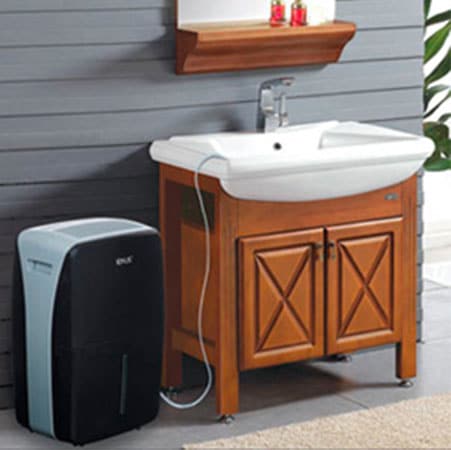 Dehumidifiers have become an increasingly popular appliance for modern day households. Due to the fact that they are highly effective at combating dampness, mold, mildew, and dust which can have severe negative physical effects on household inhabitants in the form of asthma, sinus congestion, and heart disease. Similar in concept to vacuum cleaners, top-class dehumidifiers effectively suck in the moisture contained within surrounding air, filtering it, and then blowing clean and fresh air back into your home. The job of a dehumidifier drain hose is basically draining the water accumulated during the filtration process.
While these machines are perfect for maintaining clean air, combating the formation of mold and dampness within your household, they can be quite difficult to drain and clean due to all of the moisture they buildup over use cycles.
Let's take a look at some step by step guides to draining out your dehumidifier and enjoying cleaner air.
A Dehumidifier Must be Drained Properly by the following methods
Dehumidifiers usually come with a bucket that is meant to act as a reservoir for its filtration system. During the filtering process, dampness is sucked in from the air through the dehumidifier's hose and then is filtered into the form of water depending on the size of your dehumidifier.
The amount of time needed before your dehumidifier is ready to be drained, depends on the size of the reservoir and your product. However, the appliance cannot continue draining your household of unnecessary dampness for an indefinite amount of time. Once the reservoir system becomes filled up completely, it must be drained. Otherwise, your machine will not continue working. Most of these appliances usually come with an adapter to which a dehumidifier drain hose can be attached.
1. Deplete Connection Method
This method works if your dehumidifier has a threated drainage link. Removing the water storage container from your appliance. Attach a drain hose to the designated area of your container. Direct the attached hose to any type of drain, or area that is safe for water outpouring. Once empty, reattach the water storage unit back to your dehumidifier. Repeat this process whenever needed to ensure your machine keeps working.
2. Above the Sink Method
In order for the above the sink method of draining a dehumidifier to work, the appliance must be initially installed next to or above a sink, which can make the setup process more difficult. You must connect a dehumidifier drain hose to your appliance and then route it to a nearby sink with a drain. Without a proper connection to a sink with a drain, this method will not work. The drawback of this drainage method is that your dehumidifier is connected to one location and cannot be easily moved from place to place. It's up to users to decide if they value automatic draining over the convenience of flexible relocation.
3. Drain Hose Method
Good dehumidifier units usually come with a special nozzle attached to their rear. Additional drain hoses may be attached to this nozzle, effectively increasing the distance at which a dehumidifier may be drained. Just make sure you have a location to which the water collected by the storage compartment can be sent to.
Steps of draining with a Dehumidifier Drain Hose
Here are the steps to conveniently set up your dehumidifier to automatically empty its water storage system into a safe location via the use of a dehumidifier drain hose.
Step 1: Unplug the Dehumidifier's Power Cord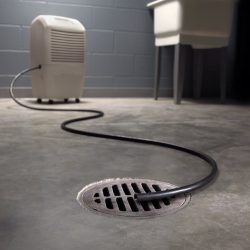 In order to ensure your safety, first, unplug the dehumidifier from its power source. Electrical surges and shocks can occur if you attempt to drain your appliance while it is passing an active electricity current.
Step 2: Detach the Dehumidifier's Water Collection Bucket
Remove the dehumidifier's water reservoir system, be sure to avoid spillages. This process is simple and usually does not require any tools or guidance. However, make sure to refer to your owner's manual in order to understand the process and save yourself some trouble.
Step 3: Locate the Drain Hose Outlet
The next step would be to locate a drain hose outlet that you will use to drain your dehumidifiers water retention filter.
Step 4: Insert a Garden Hose into the Outlet on the Rear of the Dehumidifier
Find a garden hose that fits the side of the outlet located at the rear of your dehumidifier from where you just removed the reservoir system. This will act as your dehumidifier drain hose. Most generic garden and household hoses will do the job just fine. Once you have inserted the hose, you will then want to carefully push it through to the other designated side until it is visibly exposed.
Step 5: Push the Garden Hose End into the Hose Connector
Proceed to push the hose into the connector slot of your dehumidifier. The hose should be easily attachable to your appliance. Your house should match the size of the slot whether it is small or large. Usually, these connectors require you to twist or click the hose onto them. Once successful, your dehumidifier hose will dangle freely in the area wherein your water retention bucket used to be.
Step 6: Snake the Other End of the Hose to a Nearby Floor Drain
Snake the other end of your hose to a nearby location which can be used to drain the constant flow of water. However, this does not necessarily need to be a drain. Any runoff location, like your garden or walkway will serve the purpose.
Step 7: Reattach the Bucket and Plug the Power Cord Back In
Once you have inserted the house and snaked it through to a safe runoff location, you can reattach the filtration bucket and power on your dehumidifier to experience fresh, clean air.
Tips  
Make sure your dehumidifier machine is placed at a proper level to ensure that water will automatically be sent through the drainage hose and to your designated runoff area. This means that your appliance must be placed higher than the runoff area, after all, water does flow downward.
Make sure the windows of the area which you are dehumidifying are closed, regardless of how small the area is. Otherwise, your dehumidifier will serve no purpose. It is also ill-advised to place a dehumidifier in close contact with walls, as this will impede airflow and reduce the effectiveness of your air cleaner.
Warnings
Make sure that you rerouted your dehumidifier drainage system in a way that avoids direct contact with electricity. Place your hoses in safe area so as to not create unnecessary tripping accidents. Occasionally check on your dehumidifier system to ensure that the hose is properly connected and no spillage is being accumulated.
Final Words
Dehumidifiers work wonders for decreasing dampness within households, offices, and other susceptible locations. However, many consumers do not want to go through the constant hassle of draining their humidifiers or connecting hoses. Though it may be a complicated process initially, we promise that the clean air free of dust, mold, mildew and dampness, as well as the added health benefits of asthma, allergy, and sinus relief are well worth acquiring a dehumidifier and setting it up to work properly!











Tags: dehumidifier drain hose


Categorised in: Dehumidifier, Maintenance, Techniques and skills