Bagged vs Bagless Vacuums: The Ultimate Guide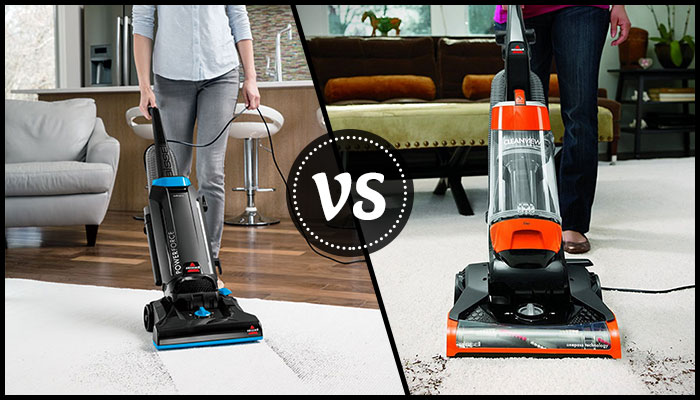 For those looking to purchase a vacuum cleaner, there are many different things to consider. While there are many brands and types of vacuum cleaners to consider, the main difference is how they collect and store the material that is sucked up into the vacuum. The two main types are a bag or bagless vacuum cleaner. We'll detail all the information for the bag vs bagless vacuum cleaner so you'll know which type best meets your needs. Read below and we'll go over everything you need to make an informed decision to make sure that you get the best vacuum cleaner for you.
Figuring Out The Basics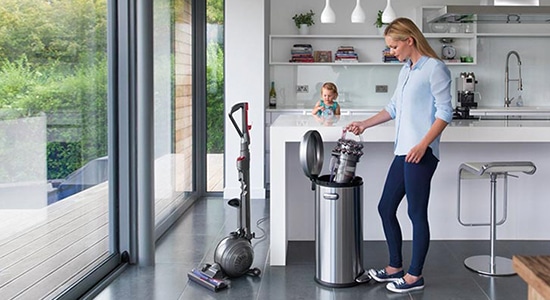 Environmentally Friendly– Consider how important purchasing an eco-friendly vacuum cleaner is to you. Will this impact your purchasing decision?

Bagged Vacuum Cleaner- The production of bags is highly resource-intensive and not a good long-term eco-friendly solution. In addition, the carbon footprint of the materials and the availability of the vacuum bags should be taken into consideration.  If the bags for your model become unavailable, it may be hard to continue to use your vacuum.
Bagless Vacuum Cleaner- Better option for the environment. Dust trap is reusable and the material is easily tossed out.  Depending on the material you may also be able to add it to compost to increase your garden's soil fertility.

Respiratory Problems– For those with respiratory problems or allergies, a vacuum cleaner that doesn't allow you to breathe in dust and dirt could be better.

Bagged Vacuum Cleaner- This is the better option for containing allergens including dust, dander, and pet hair. When replacing the bag, the bag is easily removed with minimal exposure.  Best for allergy sufferers.
Bagless Vacuum Cleaner- Increased exposure due to the configuration. Not an airtight system and when the trap is cleared out there's further exposure.  Not the best option for those suffering from allergies or other respiratory illnesses.

User-Friendly– How frequently are you willing to empty your vacuum? For those that are physically impaired, emptying a vacuum can be difficult. Keep this in mind when comparing bag vs bagless vacuum cleaners.

Bagged Vacuum Cleaner- The bagged vacuums will keep you vacuuming longer between bag changes. This is a great solution for the busy professional or mom who needs to vacuum and get on with life.    When you eventually do change out the bag it is normally a bit more intensive but with directions and videos online, anyone can change out bags easily.
Bagless Vacuum Cleaner- While you'll need to empty the dust trap more often, it normally is a quick, simple process. If you're looking for a compact vacuum, a bagless one would be best.

Maintenance– How much maintenance is required and can you do it yourself or do you need to take it to a repairman? What tools are necessary?
Size– For ease of use and storage, consider size when choosing your next vacuum.

Bagged Vacuum Cleaner- Normally larger but more powerful
Bagless Vacuum Cleaner- Compact, lightweight models compared to bagged versions.
Why Choose a Bagged Vacuum Cleaner?
Benefits of a Bagged Vacuum Cleaner
Hygienic Option– Bagged vacuum cleaners take all dust, pet hair, and allergens out of the air and funnel them directly into the bag. They're a great option for those that have respiratory problems.
Recommended for Allergy Sufferers– Dramatically reduces allergens for instant allergy relief and can make a big difference for allergy sufferers.
HEPA Filtration– HEPA Filtration ensures that the air quality in your home or business is the best that it can be.
Requires Less Maintenance– Easier configuration reduces the amount of maintenance needed.
Best vacuum cleaner for those that need to clean up pet hair.
Drawbacks of a Bagged Vacuum Cleaner
Continuous Investment– Have to keep purchasing bags. Vacuum is unable to be run without bags.
Decreased Performance– As the bag fills the efficiency of the vacuum decreases. This difference in sucking power can create issues and the need to replace the bag before it is full.  Most bags also are opaque and easily able to be viewed.  You may have to check the bag to see if it is full before making the bag change in some cases.
Why Choose a Bagless Vacuum Cleaner?
Benefits of a Bagless Vacuum Cleaner
Less expensive– The vacuum cleaner itself and the money saved on purchasing bags makes this the cheaper option and make a big difference in the budget for your family.
Easy to know when to empty– The dust trap is normally clear and can easily be seen to know when to empty.
Eco-Friendly Option– No trees or other products were needed for the creating of additional bags.
Drawbacks of a Bagless Vacuum Cleaner
Increased Exposure to Allergens– Bag doesn't protect you due to the vacuum not being an enclosed system. Also exposed when emptying the dust trap. Not as effective when vacuuming dog hair.
More Hands-On– The bagless vacuum is a vacuum that requires a more direct approach. When emptying and replacing the dust trap you'll need to dismantle the vacuum to remove dust trap.  This process is dependent on the specific design. Make sure to read up on this process before purchase to know that it is something that you are capable of.
Bag or Bagless Vacuum Which is Better?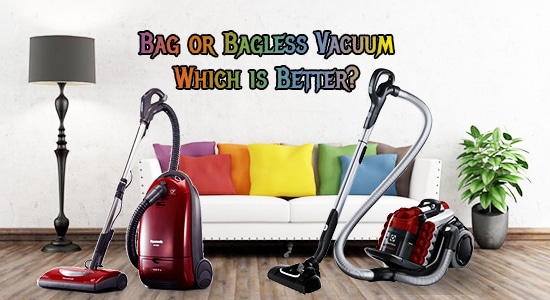 When choosing between a bag vs bagless vacuum cleaner it's important to know answers to the following questions:
Where will you be using your vacuum?
For those that are looking for a home vacuum, you may have different requirements than for a maid, hotel, or office. Bagless vacuum cleaners are great for homes but may not be practical for heavy-duty use.
Is exposure to allergens something that is important in your decision?
For those with allergies or other respiratory problems, a bagged vacuum cleaner is the better option and can make a big difference. The bag reduces the exposure to dust, dander, and other allergens.  If allergies aren't a problem for you, the bagless vacuum cleaner is a quick-to-empty and cost-efficient solution.
Do you have pets?
For those with pets, dander and pet hair can be a problem. Bag vacuum cleaners are better in situations with pets due to the enclosed system.  The power of the bagged vacuum cleaner is normally higher and better at sucking up pet hair.  If you don't have pets, a bagless vacuum can work great.
When you consider a bag vs bagless vacuum cleaner, there are many things to know in advance.  Once you understand your needs and answer a few specific questions, you'll know which is best for your situation.  While there may be a few compromises, with recent upgrades in technology, a bagged or bagless vacuum cleaner is a great option no matter which will work best for you!
Categorised in: Buying Tips, Vacuum cleaners