Get Handy: How to Find and Fix Vacuum Leaks Within Minutes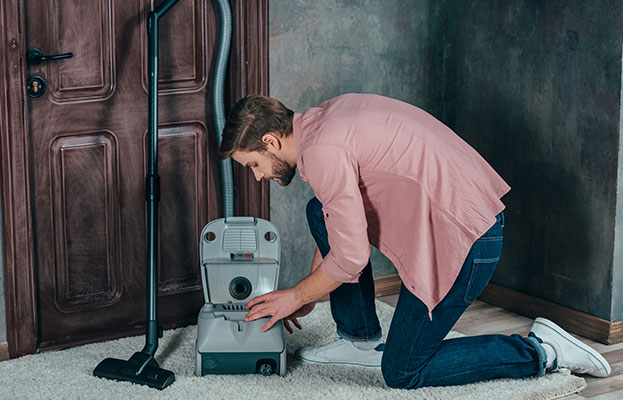 Whilst repairing a vacuum leak is a relatively easy fix, the most difficult part is confirming that a leak is the root cause and the exact location of the leakage. For this reason, you need to know how to check for vacuum leaks.
A vacuum leak can have a grave impact on the overall functionality of your vacuum even if you take good care of it, so it can often be easy to misdiagnose the issue. Coupled with the fact that even the smallest tear within the vacuum hose can make the issue sometimes relatively undetectable.
So, let's break down the warning signs to help you detect if your issue is a vacuum leak and what to do about it.
When A Potential Vacuum Leak Should Be Fixed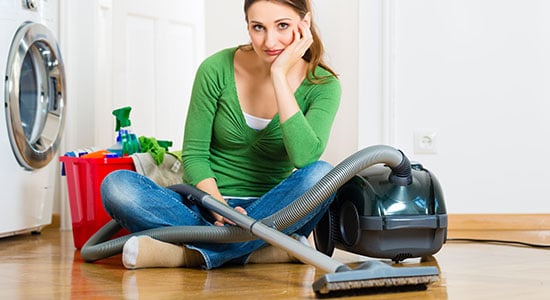 Simply, the internal combustion engine produces a vacuum while the machine is running, and the efficacy of this vacuum can be hampered when there is any damage, such as a tear or a flaw.
It is not uncommon for pipes and lines to become damaged, worn or disfigured as a result of long-term use or wear and tear so check the functionality of the vacuum periodically and be aware of any changes in sound or motion to your car.
A vacuum leak can result in an overall detrimental effect on your car engine, so it is crucial to be prompt and efficient when you suspect there could be a problem. A damaged car engine can be costly and sometimes irreparable.
As you will see below, there are numerous issues that can be caused by a vacuum leak, therefore it is imperative that a leak is fixed to prevent the potential for further damage or safety issues.
Symptoms of Vacuum Leaking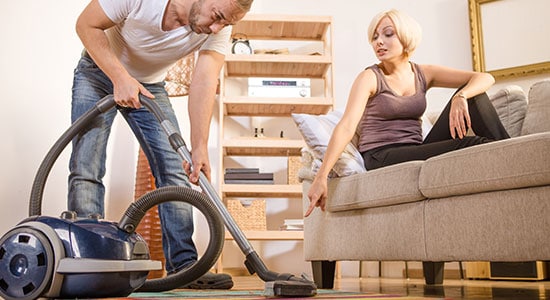 There are multiple symptoms that can be caused by a vacuum leak. The difficulty arises when these symptoms can hide the leak under the guise of another issue and make the core problem hard to identify.
Most often the leak can be misdiagnosed as a fuel or ignition problem, but if you call to mind the following you should be able to weed out any potential for misdiagnosis.
Listen and watch out for the following:
Backfiring: A leak in the system can compromise the functionality of the vacuum by causing excess air to seep into the intake manifold, which can result in the vacuum backfiring through the tailpipe.
Hesitation: Any defect will cause an imbalance in the air/fuel levels within the engine. Excess air in the engine, which can be caused by a hole or a rip, makes it difficult for the spark plugs to create combustion which results in hesitation and drag. This is particularly pronounced during any acceleration of the vacuum.
Hard Starting: This symptom can be dependent on the size and location of the leak but the reduction of pressure within the car's carburetor and fuel system can impact the vacuum starting with ease
Low Engine Power: An imbalance in the engine vacuum can reduce the overall force and power created by the engine during combustion
Misfiring: This is often only a symptom when the engine is cold/ idle or running on low revolutions per minute or RPM's. The disproportion of the fuel and air levels result in the fuel not burning as efficiently as normal and this will cause a jolting jerking motion.
Poor Fuel Economy: A crucial symptom to watch out for as this can not only be an inconvenience but result in added expense. Poor fuel economy or bad gas mileage can be a costly side effect of a vacuum leak. Any fault which has an impact on the car's engine will likely cause loss of fuel efficiency.
Poor Acceleration or Engine Stumbling: Much like hesitation, poor acceleration is caused by an imbalance in the air/fuel ratio which impacts the overall engine power and the force created during engine combustion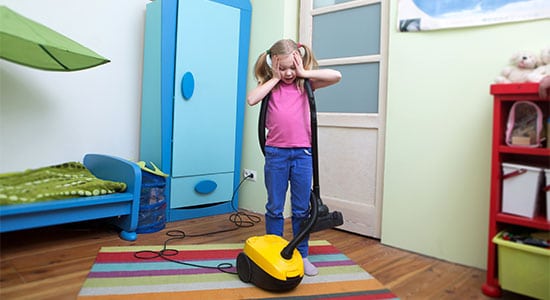 Hissing: The easiest way to identify a vacuum leak is to see if you can hear any audible hissing sounds, much like the sound made when a balloon is deflating. Whilst a sound is not always present, this is the most straightforward way to start distinguishing what the cause of the problem is.
Rough Idle or Stalling: A defect causing excess air to enter into the intake manifold can result in rough idling or stalling.
High Idle: If air seeps into the throttle body through a perforation or flaw this will result in an increase in the vehicle's revolutions per minute.
'Check Engine' Light Activated: For your own safety, any time the check engine light is on, you should act quickly to identify and resolve the issue. A car engine operates by a vacuum and if that vacuum is compromised then it will have a knock-on effect on the rest of the operating parts. Vacuum leaks can be a common cause of engine performance issues.
Poor Brake Performance: This is an issue found with vacuum-type power brakes as the alteration in the pressure impacts on the functionality of the brakes.
How to Check for Vacuum Leaks?
Sound Test:
There may not always be a sound accompanying a leak, however, a sound check is the easiest and best place to start. It can be difficult to detect small sounds with the coinciding noise of the engine. Run the vehicle on idle, revving the engine if necessary to prevent stalling, and listen out for uncharacteristic sounds such as air escaping.
Visual Checks:
Whilst vacuum leaks can be quite elusive, another method of how to check for vacuum leaks is by carrying out a visual inspection. Scrutinize the vacuum hoses and attachments to look for anything untoward such as cracks, rust, and lose parts.
Smoke Machine Test
This is likely the more expensive way to locate your issue unless you, or someone you know, has access to the relevant equipment. Purchasing the appropriate kit can be expensive so making an outlay on materials for an incidental occasion is unlikely economical.
As above, the engine works like a large vacuum which should be airtight and the pressure within controlled. By passing smoke through the system and observing for any errant or escaping smoke it is easier to see any cracks or holes than doing so simply by the naked eye.
Soapy Water Test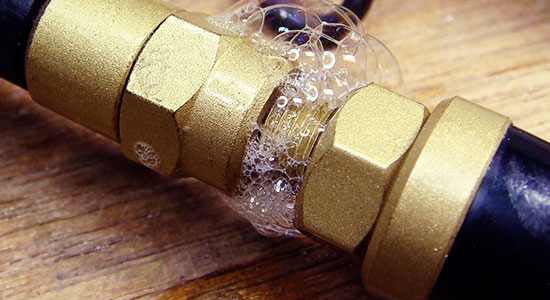 Using soapy water is a more budget-friendly alternative than smoke involving a spray water gun and some dish soap. The purpose of this test is to identify any defects by momentarily blocking any air escaping by using the bubbles.
You will need to run the motor on idle, revving as necessary to prevent stalling. Simply combine the water and some dish soap in a spray gun. Spray the soap mixture onto any suspect points. If you notice the sound of the running engine even out or alter when the mixture is applied, then it is likely that you have located the problematic area.
Vacuum Leak Fixing Tips – Tools and Troubleshooting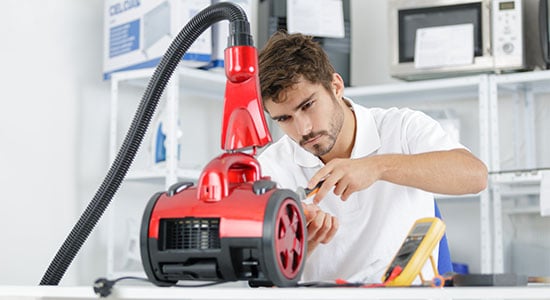 We have been through how to find a vacuum leak and you have identified that this is the issue, so let's move on to some tips on how to fix a vacuum leak.
The vacuum hose is made of durable rubber, but it does not take much for it to be damaged to a point that will cause a leak. Upon identifying the source of the leak check the surrounding area to see if any errant wires or neighboring parts have caused the erosion, otherwise, you will see a repeat of the damage in the future.
Once the defect or defects have been identified, you will need to decide whether you want to replace the entire line or repair a section. If only a small section is damaged, then you can remove it by cutting the relevant portion away and replacing the old segment with a new line. If the damage is more extensive then you will likely have to replace the entire line.
If you are unsure what parts you need to purchase, then remove the line from the car and seek advice at your local auto parts store who should be able to recommend a suitable match. Failing this, please refer to your mechanic.
If you are removing more than one section of the line, then ensure that you label each part and any fittings so you can safeguard against confusion during reassembly.
Ensure that you refer to your vehicle manual to familiarize yourself with the relevant components and connections. If you do not have your vehicle manual you may be able to find vehicle-specific diagrams online.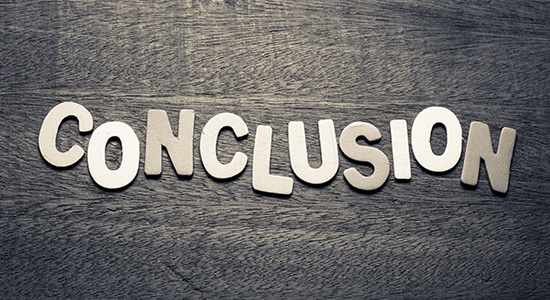 Once you have been able to confirm that a vacuum leak is the source of the problem (by attempting all methods above explaining how to check for vacuum leaks) rectification can be a relatively easy process. Ensure that you are swift to try and resolve the issue to prevent possible ramifications or knock-on damage to your vehicle or any grave safety issues that could be caused by leaving the matter unresolved.
If you remain unable to find the source of the leak then there is the possibility that the issue may be an error within the interior of the engine, such as a seal being defective. In which case, you may need to consider further testing such as a cylinder leak down test or compression test to correctly identify the issue.
Categorised in: Techniques and skills, Vacuum cleaners